Payment & Security
Your payment information is processed securely. We do not store credit card details nor have access to your credit card information.
Description
White Model: MS-45T2SB
Spa-use S Shape 6 in 1 30K Ultrasonic Cavitation RF Laser Machine
Experience the power of updated S shape cavitation technology, combining 30KHz cavitation RF body sculpting, RF vacuum therapy treatment, and EMS electroporation RF facial tightening – all in one device for comprehensive body and skin care.
Can the s shape machine lose weight?
Ultrasound cavitation is not a treatment for obesity, nor is it a method of weight loss. It is a way to "reshape" and "tone" the body. It is specifically designed to reduce local adipose tissue, which makes it difficult to resist the movements around the abdomen, buttocks, and thighs that are easily eliminated by simple diet and exercise.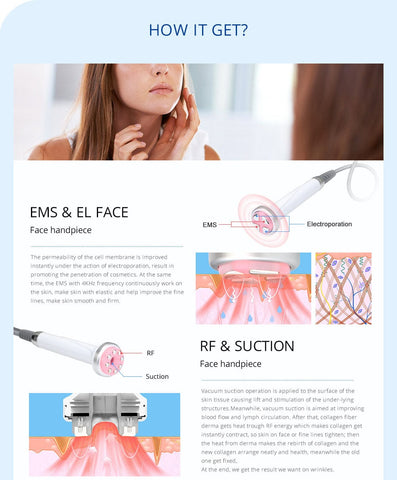 What features are included in the S Shape Machine?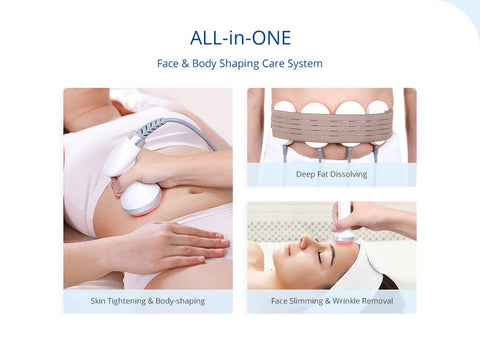 Cavitation RF handle, the two functions are used in combination, Cavitation improves the performance of RF to destroy fat several times by damaging it first.
The radiofrequency converts electrical energy into heat energy to penetrate deep into the skin, thereby accelerating blood circulation and subcutaneous tissue, stimulating collagen, protein, and cell renewal, tightening wrinkles, and other effects.
EMS can tighten, lift, and regenerate the skin, thereby increasing elasticity.
Lipo laser pads, use a low-level visible red laser to create a safe and painless stimulus and use a low-level visible red laser to create a safe and painless stimulus to maintain the effect of the job.

The advantage of s shape cavitation machine:
Functional handles for body and facial
Save time by doing body massage slimming and skin tightening treatments together
Personalized design, can choose the function separately or together as you prefer
Not only for the body but also for facial, EMS+EL is best for skin absorption nutrition
LED Laser plate accelerates tissue coagulation to avoid muscle slack after slimming
Technical Specifications:
Main Machine
Net Weight: 7.60kg
Gross Weight: 25.08kg
Dimensions: 490x390x300 (mm)
Input Power: AC 110V/220V 50/60Hz
Power Consumption: MAX 150W
Display: Touch Screen
Ultrasound Cavitation & RF Body Shape Handle
Ultrasound Cavitation Frequency: 30KHz
Power: 50W
RF Frequency: 5MHz
Power: 85W
Suction& RF Body Sculpture Handle
RF Frequency: 5MHz
Power: 85W
Suction Vacuum: <-80kPa
Pressure: >250kPa
Airflow: >10L/minute
Noise level: <70dB (30cm away)
Power: 20W
Suction & RF Facial Slimming Handle
Frequency: 5MHz
Power: 85W
Suction Vacuum: <-80kPa
Pressure: >250kPa
Airflow: >10L/minute
Noise level: <70dB (30cm away)
Power: 20W
EMS & EL (Electroporation) Facial Anti-aging Handle
EMS Frequency: 4.5KHz
Power:10W
EL (Electroporation) Frequency: 65Hz
Power: 10W
Package Listing:
1 x S-SHAPE Main Machine
1 x Suction& RF Facial Slimming Handle
1 x EMS& EL (Electroporation) Facial Anti-aging Handle
1 x Ultrasound Cavitation&RF Body Shape Handle
1 x Suction&RF Body Sculpture Handle
6 x laser paddles
2 x Small paddles
1 x Holder
1 x Power Supply Cord ( Both 110v and 220v voltage (frequency: 50/60Hz) versions are available. Also we stock the USA, UK, AU, EU plug to suit for the country all over the world.)