Payment & Security
Your payment information is processed securely. We do not store credit card details nor have access to your credit card information.
Description
Model: HR-TX300
IPL RF Skin Rejuvenation Acne Wrinkle Removal E-light Beauty Machine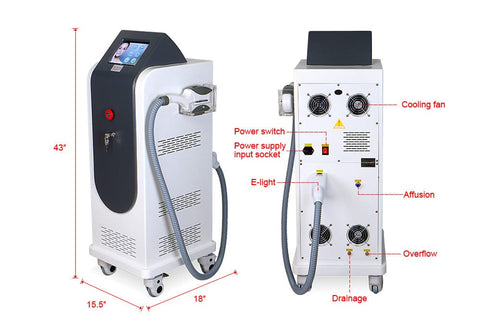 Functions
Non-traumatic hair removal.

Freckle Acne Wrinkle Removal.
Improve skin condition and maintain skin vitality.
Treatment Theory
Applying the technology of IPL and Bio-polar Radio Frequency, the system acts on the entire corium layer, epidermal layer, and subcutaneous tissue. On one hand, IPL destroys pathological pigments by photon thermolysis effect, stimulates the collagen and elastic fiber, and gets the effect of tightening and whitening, on the other hand,bio-polar RF releases about 3MHz radio wave, high-frequency vibration makes the skin molecule creating heat energy by friction when the temperature reaches 68℃-72℃, the collagens extend will reproduce and recombine, enhance getting the effect of tightening skin and removing wrinkles.
System Characteristics
1. The Treatment head of E-light mainly combines three parts: bipolar radio frequency+low-energy pulse light energy+epidermal cooling.
2. Treatment result is obviously enhanced in the clinic, and the various skin problems like wrinkle and telangiectasia are greatly improved.
3. Easy operation, you only need to adjust the energy of IPL and RF individually.
Treatment Range
1. Tender Skin: the whole body's beautiful white tender skin, slimming
2. Remove Freckles, chloasma, senile plaque, etc
3. Pigment removal: red blood silk, erythema, acne, rosacea, etc.
4. Hair Removal: armpit hair, hairline, beard, whiskers, lip hair, body hair, bikini hair, or any other unwanted hair.
Technical Specifications
Energy range: 5-50J/c㎡
Treatment Area:10*40mm
Wavelength:530-1200nm
Pulse Duration:1.0-9.9ms
Pulse Number:1-5 adjustable
Power supply AC220V 50HZ;AC110V 60HZ
OUTPUT POWER:1000W
Dimension:630*530*1200mm
Net Wight:48kg
RF radio frequency:3M
Humidity:≤80%