Payment & Security
Your payment information is processed securely. We do not store credit card details nor have access to your credit card information.
Description
Model: MS-7601MAXSB
8 IN 1 Ultrasonic Cavitation 40K Vacuum Radio Frequency Hot Cold Hammer LED Laser Body Slim Machine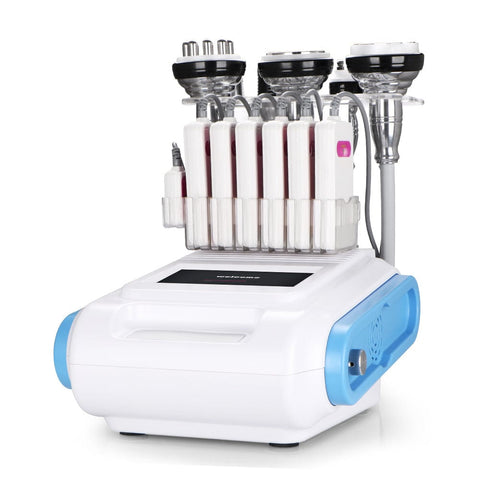 Overview
Ultrasonic cavitation vacuum rf cellulite removal machine burning dissolve fat cellulite, radio frequency tightening skin, combine all the function to use, get better result for body slimming and shaping, face lifting and tighten.
What is the 8in1 unoisetion cavitation machine?
The 8in1 Unoisetion cavitation 2. 0 machine, body weight loss and facial lifting system, use 40k ultrasound wave to reduce the fat cell, burn fat and remove cellilute. This kind ultraosund wave just aims at fat cell, would not hurt other system. And the RF technology, non-invasive, lifting and tighten the skin, get the weight loss and body shaping tighten.
Benefits of 8in1 unoisetion cavitation machine
- Dissolve fat and cellulite remove
- Lymphatic drainage
- Firm skin and enhance skin elasticity
- Specific fat cells explosion
- Massage the body to relieve pain and stress
- Facial lifting and firming
- Enhance the metabolish circulation and blood ciculation
- Stimulate collagen regeneration and smooth skin
How many treatment is recommended for the 8in1 unoisetion cavitation machine?
The first treatment for the patient, it would be 2 times one week. 10 treatments of course for one treatments, 3 courses of treatment needed.
Specification
Power supply Input:100V-240V
Power :<=200W
Uoisetion 40K cavitation Head:
Frequency:40KHz
Power:15W
Vacuum&Sextupolar 3D SMART RF Handle with Photon for body
Freqeuncy:1MHz
Power:50W
Vacuum: <-80kPa
Pressure: >250kPa
Air flow: >10L/minute
Noise level: <70dB (30cm away)
8 Pole 3D Smart RF w/Photon for body
Freqeuncy:1MHz
Power:30W
Quadrupole 3D Smart RF w/Photon for face
Freqeuncy:1MHz
Power:30W
3D Smart Bipolar RF w/Photon for eye area
Freqeuncy:1MHz
Power:10W
Hot Cold Hammer
Temperature:0~5 degree centigrade
Lipo Laser
Wavelength: 635nm ~650nm
Power: 5mw
Package Including:
1 x Host
1 x Unoisetion Cavitation 2.0 Probe
1 x Bipolar 3D SMART RF probe with photon for eye area
1x Sextupolar Vacuum 3D SMART RF for body
1 x Quadrupole 3D SMART RF probe with photon for face
1 x 8 Pole 3D SMART RF probe with photon for body
1 x Bio face lift probe
1 x Hot Cold Hammer
1 x Power Supply Cord( Both 110v and 220v voltage (frequency: 50/60Hz) version are available. Also we stock the USA, UK, AU, EU plug to suit for the country all over the world.)
Big LED Paddles x 6
Small LED Paddles x 2