Payment & Security
Your payment information is processed securely. We do not store credit card details nor have access to your credit card information.
Description
Model:MS-5406

Brand New Cavitation Machine Vacuum RF Radio Frequency Cellulite Removal machine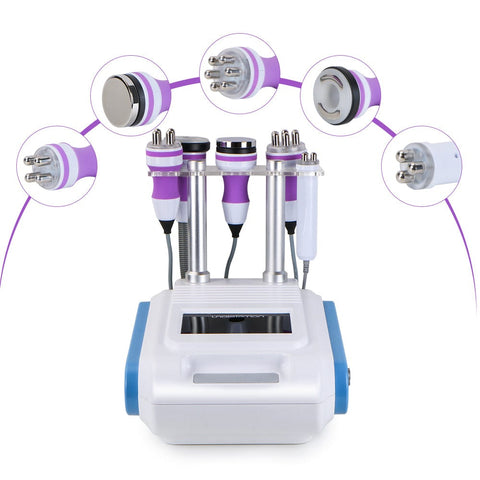 Overview
Our 5 in 1 ultrasonic cavitation machine with advanced unoisetion cavitation 2.0 technology provide a safe body contouring procedure, effectively working on fat reduction, weight loss, and also used for skin firming, anti-wrinkle.
Advantages Of 5 In 1 Ultrasonic Cavitation Machine
- FDA approved 40k cavitation slim equipment, provide a non-invasive cavitation slimming treatment.
- Advanced unoisetion cavitation 2.0 technology, bring you a comfortable and quiet treatment.
- With smart 3D RF technology, longer lifetime for handles.
- Multipolar probe design, you can apply it for your body, face and eye's around.
- Customized logo for your choice.
What Does 5 In 1 Ultrasonic Cavitation Machine Can Do?
- It helps fat burning weight loss and body sculpting.
- It helps reduce cellulite (orange peeling) tissue.
- It helps promote blood circulation, improve body metalbolism.
- It helps skin tightening lifting and rejuvenation.
- It helps wrinkle removal anti-aging fine line reduction.
How Long Does Ultrasonic Cavitation Take To Work?
Ultrasonic cavitation treatment works by eliminating fat and toxins via the lymphatic systems. Typically, the body requires three days to properly eliminate the fat and toxins after a treatment. it is essential to do one treatment session, apart 3 days. 
Specifications
Power supply Input:100V-240V
Power :190W
40K Unoisetion Cavitation 2.0 Handle
Frequency:40KHz
Power:20W
Sextupole RF Handle with Photon
Freqeuncy:3MHz
Power:50W
Vacuum& Biploar RF Handle with Photon
Freqeuncy:3MHz
Power:50W
Vacuum: <-80kPa
Pressure: >250kPa
Air flow: >10L/minute
Noise level: <70dB (30cm away)
Quadrupole RF Handle with Photon
Freqeuncy:3MHz
Power:30W
3- Pole RF Handle with Photon
Freqeuncy:1MHz
Power:10W
Dimensions:31 x37x19CM
Net weight: 6KG
Gross weight:7.1 KG
Input Power :100V-240V
Power Consumption: Max 190W
Package Included
Sextupole RF Handle with Photon x 1
40K Unoisetion Cavitation 2.0 Handle x 1
Vacuum& Biploar RF Handle with Photon x1
3- Pole RF Handle with Photon x 1
Quadrupole RF Handle with Photon x 1
Power cord x 1
Main machine x 1