Payment & Security
Your payment information is processed securely. We do not store credit card details nor have access to your credit card information.
Description
Model: MS-7601MAX
Cavitation 40K Vacuum RF Bipolar Multipolar RF Cold Hot Bio Weight Loss Machine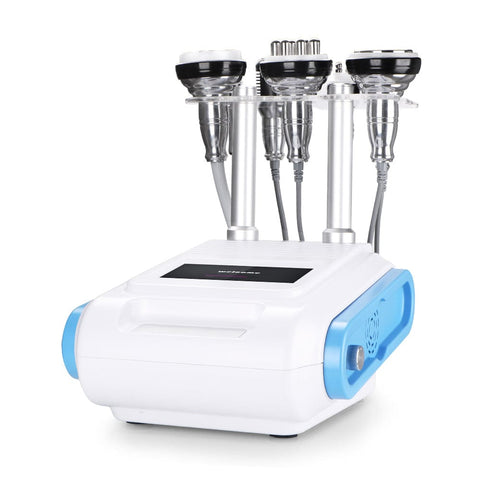 Overview 
myChway 7 In 1 cavitation unoisetion SMART 3D RF bio photon therapy is the latest cost-effective vacuum cavitation solution. It integrates 7 technologies in one system, proven non-invasive cavitation body slimming, deep fat dissolve, and skin care.
Benefits of 7 in 1 cavitation 40k unoisetion vacuum rf weight loss machine
The 7 in 1 cavitation 40k unoisetion vacuum rf weight loss machine is a safe beauty machine which is painless and non-surgical way to remove fat and cellulite. It is greatly helpful to reduce fat in problem areas: Thighs, hips, stomach, back, arms, chin, etc. Tighten and tone skin, reduce sagging skin. Moreover, It is FAST and EFFECTIVE. Start seeing results after just ONE 30-50 minute session!
Can ultrasonic waves break down fat?
Ultrasound fat reduction uses highly focused sonic waves to break down fat cell walls in the treatment area, thereby releasing the fat inside to be metabolized by the body and reducing the size of a fat deposit.
Does ultrasonic cavitation get hot?
Is Ultrasound Cavitation & RF painful? Cavitation and RF is a painless treatment. Mild redness may appear occasionally but will be highly unlikely to cause any actual pain. The heat from the hand pieces felt during the treatment is perfectly tolerable. And ultrasonic cavitation will not make heat itself. So you will not feel any heat from cavitation probe. But you can feel heat from RF probe.
Does ultrasonic cavitation get hot?
1 x Host
1 x Unoisetion Cavitation 2.0 Probe
1 x Bipolar 3D SMART RF probe with photon for eye area
1x Sextupolar Vacuum 3D SMART RF for body
1 x Quadrupole 3D SMART RF probe with photon for face
1 x 8 Pole 3D SMART RF probe with photon for body
1 x Bio face lift probe
1 x Hot Cold Hammer
1 x Power Supply Cord( Both 110v and 220v voltage (frequency: 50/60Hz) version are available. Also we stock the USA, UK, AU, EU plug to suit for the country all over the world.)