Payment & Security
Your payment information is processed securely. We do not store credit card details nor have access to your credit card information.
Description
Model:MS-5481
Ultrasonic Cavitation Weight Loss Photon Three Pole Multipolar Vacuum RF Lifting Slimming Machine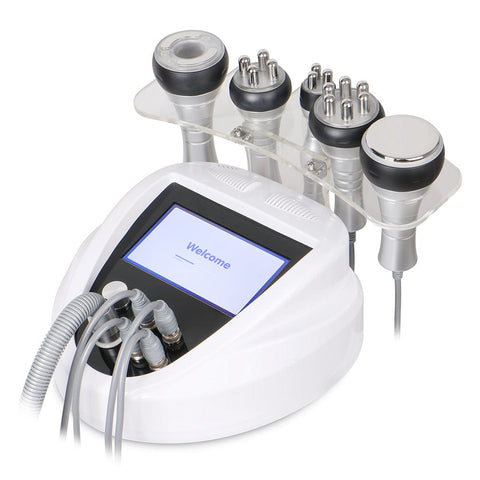 Overview
Our 5in1 Ultrasonic cavitation slimming machine with Cavitation 1.0 version, it can stimulate your body to own fat-burning abilities to quickly and easily break up fat cells. Firm up the skin and reduces cellulite, resulting in a younger and more beautiful for you. The 5-in-1 cavitation vacuum rf machine can be precisely targeted to virtually any problem area of the body. There is no downtime, no side effects.
What Can You Expect From 5 In 1 Ultrasonic Cavitation Machine?
- It helps fat removal body shaping weight loss through cavitation slimming treatment.
- It helps remove wrinkles, eliminate scars, restore skin elasticity and gloss and make it be blonde and smooth.
- It helps enhance blood circulation, accelerate the decomposition of fat, take away wastes, enhances the effect of removing cellulite, effectively improve the state of areolar tissue.
- It helps release skin cells, elastic skin reverts to the original compact, stimulate the muscle tension, eliminate wrinkles, prevent skin aging, restoring skin elasticity, facial improvement.
Advantages Of 5 In 1 Ultrasonic Cavitation Machine
- FDA approved ultrasonic cavitation liposuction machine, provide safe and non-invasive treatment.
- With cavitation 1.0 technology, bring fast and obvious results.
- Color touch screen, convenient and easy operation.
- Portable cavitation machine, easy to carry, ideal for home or beauty salon.
- 3D radio frequency technology, RF energy will be targeted virtually to the precise area.
- No downtime, No negative side effects, No surgery, No pain or discomfort.
Does Ultrasound Cavitation Actually Work?
Yes, ultrasound cavitation liposuction machine can provide real and measurable results. Most of the clients will see a slight difference after one session treatment. However, if you want to see the obvious effects, 8-12 sessions treatment needed. After ultrasound cavitation, a regular exercise and diet will give a optimism result.
Specifications
Power supply Input:100V-240V
Power: 380W
Uoisetion 40K Cavitation Probe
Frequency: 40KHz
Power: 30W

Multipolar RF Head for Body
Frequency: 1MHz
Power: 70W

Biploar RF with Vacuum
Freqeuncy: 1MHz
Power: 70W
Vacuum: <-80kPa
Pressure: >250kPa
Air flow: >10L/minute
Noise level: <70dB (30cm away)

Quadrupole RF Head for Face and Body
Frequency: 1MHz
Power: 60W

Tripolar RF Head for Face and Eyes' Around
Frequency: 1MHz
Power: 20W

Dimensions: 36x40x27cm
Net Weight: 5.4kgs
Gross Weight: 6.35kgs
Imput Power: 100V-240V
Power Consumption: Max 150W
Display: Touch Screen
Package List
Multipolar RF Head for Body x 1
40KHz Cavitation Head x 1
Vacuum Biploar RF Head x1
Three Pole RF Head for Faceand eyes' around x 1
Quadrupole RF Head for Face and Body x1
Power cord x 1