Payment & Security
Your payment information is processed securely. We do not store credit card details nor have access to your credit card information.
Description
Model:YH-5391
5 in 1 Unoisetion Vacuum 3D RF Slimming Weight Loss Beauty Machine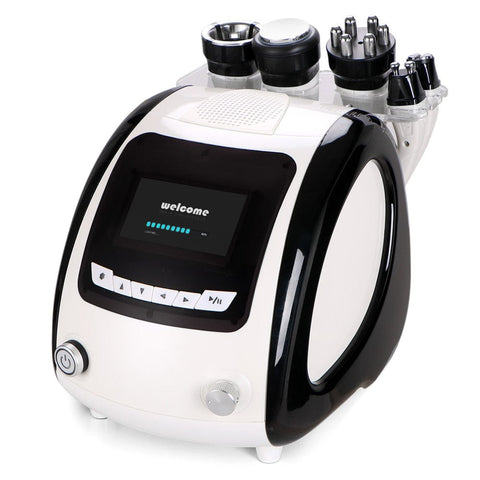 1.Overview
5 In 1 rf cavitation vacuum cellulite machine through cavitation 2.0 and 3d radio frequency technology,
help in fat reduction and cellulite treatment, skin tightening, and facial wrinkle removal,
it is non-invasive and safe body contouring procedure.
2.Advantage Of 5 In 1 RF Cavitation
- FDA approved a 5 in 1 cavitation machine, provide a safe and non-invasive procedure.
- With advanced cavitation 2.0 technology, bring a fast and effective result.
- 3D radio frequency technology will focus energy on localized fat area.
- Ergonomics handle design, comfortable and convenient hand feel.
- Color display, easy to use, ideal for home or beauty salon.
3.What 5 In 1 RF Cavitation Can Do?
- It helps fat reduction body shaping through unoisetion cavitation
what it helps skin tightening, cellulite removal, and body massage.
which can helps in promoting blood circulation and metabolism.
not only helps facial wrinkle removal and fine line reduction.
but also it helps lift and regenerate skin for added elasticity.
4.What Is Cavitation Slimming?
40K Unoisetion cavitation is a non-invasive fat reduction treatment
that uses ultrasound technology to reduce fat cells in targeted parts of the body.
It is the preferred option for anyone who does not want to undergo extreme options such as liposuction,
as it is does not involve any needles or surgery.
5.Paramater
Power supply Input:100V-240V
Power :190W
Uoisetion 40K Cavitation Head
Frequency:40KHz
Power:15W
Sextupolar 3D RF for Body
Frequency:1MHz
Power:50W
Quadrupole RF with Vacuum
Frequency:1MHz
Power:50W
Vacuum: <-80kPa
Pressure: >250kPa
Air flow: >10L/minute
Noise level: <70dB (30cm away)
Quadrupole 3D RF for face
Frequency:1MHz
Power:30W
3D Bipolar RF
Frequency:1MHz
Power:10W
6.Package List
Host
Uoisetion 40K Cavitation Head
Sextupolar 3D RF Head
Bipolar 3D RF Head
Quadrupolar 3D RF Head
Quadrupole RF with Vacuum Head
Holder
Power Supply Cord ( Both 110v and 220v voltage (frequency: 50/60Hz) version are available.
Also we stock the USA, UK, AU, EU plug to suit for the country all over the world.)