Payment & Security
Your payment information is processed securely. We do not store credit card details nor have access to your credit card information.
Description
Model: MS-98B1
8 In 1 BIO Microcurrent RF Skin Care Body Shaping Weight Loss Tool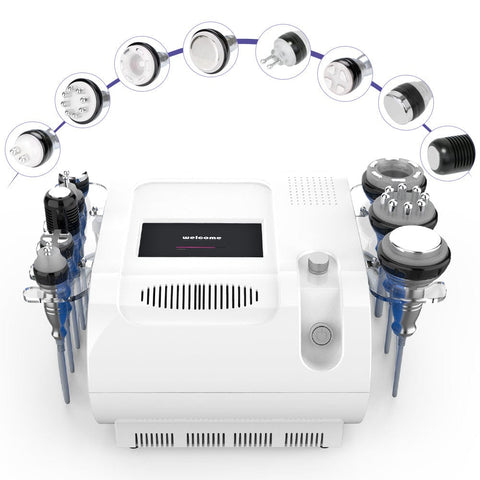 Benefits of 8 in 1 Ultrasonic Cavitation RF Vacuum BIO Beauty Machine
The 8 in 1 Ultrasonic Cavitation RF Vacuum BIO Beauty Machine is one of the multifunctional machine in myChway which is for body slimming, skin rejuvenation and anti-aging. It generally works well on cellulite by focusing the 'cavitation effect' on the superficial fat tissue. Best results are obtained when the ultrasound is applied in conjunction with the radio frequency' (RF) treatment which helps to tighten and tone the skin. Cellulite is the appearance of dimpled skin.
What Guidelines should I follow pre-treatment and, post treatment?
Drink plenty of water. Drinking water is a necessary part of the treatment to facilitate the elimination of the broken down fat. Maintain a low calorie diet for a few days after the treatment to ensure that the energy released by the treatment is metabolized by the body. After the treatment patients are able to return to their daily activities as usual.
How does weight loss treatment work?
Fat cells are significantly reduced in size. This results in substantial body contour improvements. That's what makes LipoLaser such a great target treatment for trouble spots such as love handles, muffintop and saddllebags. Significant results are seen in just a few treatments.
Package list
1 x Host
1 x 40K Unoisetion Cavitation 2.0 Handle
1 x Sextupolar 3D SMART RF Handle
1 x Quadrupole 3D SMART RF Handle
1 x Bipolar 3D SMART RF Handle
1 x Vacuum&Bipolar RF Handle
1 x Bio/ Microcurrent Handle
1 x Ultrasound Handle for Face
1 x Cold&Hot Handle
1 x Holder for handles
1 x Power line