Payment & Security
Your payment information is processed securely. We do not store credit card details nor have access to your credit card information.
Description
Model:MS-98D1
Professional Multi-function 40K Unoisetion Cavitation Vacuum RF 3Mhz Ultrasonic Hot Cold Hammer Bio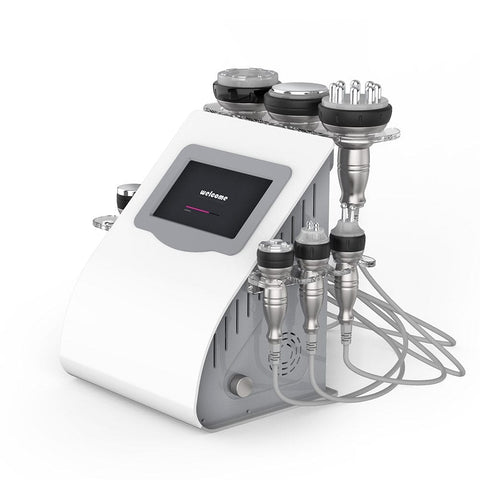 Overview of 8in1 unoisetion cavitation 2.0 mcachine
8in1 unoisetion cavitation 2.0 mcachine is one of our brand new multifuntional RF cavitation machine which includes 40K unoisetion handle, sextupolar RF Handle , quadrupole RF Handle, bipolar RF Handle, vacuum&bipolar RF handle, bio/ microcurrent handle, ultrasound handle for face, cold&hot handle. It is the best choice for spa owner or the personal user like office worker, house-wife, etc. It utilizes advanced unoisetion cavitation 2.0 technique and smart radio frequency (RF) technique to perform well on body contouring, fat reduction, and cellulite removal. Additionally, this multi-functional equipment also provides facial care programs, such as microcurrent photon skin rejuvenation, cold hammer calm skin. 
Advantages of 8in1 unoisetion cavitation 2.0 mcachine
Unoisetion cavitation smart 3D RF vacuum body shape machine is the perfect fat reduction skin rejuvenation treatment for those that do not want to take any excessive measures.
It is a 8 in 1 machine which you can do body slimming, skin tightening on your body and wrinkle removal, anti-aging treatment on your face. It is safe, non-surgical, and requires no recovery time. It's also one of the only technologies available that can show you results as effective as those you expect from liposuction or surgery which you can save more money.
How much weight can you lose with 8in1 unoisetion cavitation 2.0 mcachine?
Great results can be obtained for those who have up to 25 – 30 pounds or less to lose. Unoisetion cavitation smart 3D RF vacuum body shape machine is ideal for those who have tried to shift the stubborn fatty bulges with diet or exercise and are aiming for a smoother and more balanced shape.
Is rf and cavitation treatment painful?
No, most clients consider the procedure painless and comfortable. During the treatment you will feel a soothing heat in the targeted area. A little "blushing" or reddening may occasionally appear but it does not cause pain. The heat generated is perfectly tolerable. There may be a slight discomfort due to the specific low frequency ultrasound noise experienced, but it poses no harm and disappears as soon as you are not in contact with the transducer. The treatment can be compared to the feeling of finishing an intense workout.
What results can I expect?
An average of 4-8 inches total reduction in circumference can be achieved after a single treatment of the abdomen in most clients. Multiple treatments result in incremental circumference reduction and high client satisfaction in most individuals. Results are long lasting so long as you maintain a healthy diet and lifestyle. The fat cells are eliminated during a course of treatments, thereby reducing the body's ability to increase in size. However a diet and lifestyle of poor food choices and indulgence will lead to further weight gain, so it is important to commit to a healthy diet and lifestyle to get the best long term benefits from your treatments.