Payment & Security
Your payment information is processed securely. We do not store credit card details nor have access to your credit card information.
Description
Model: MS-9901
9in1 40k Cavitation Vacuum Galvanic RF Cold Hammer LED Slimming Machine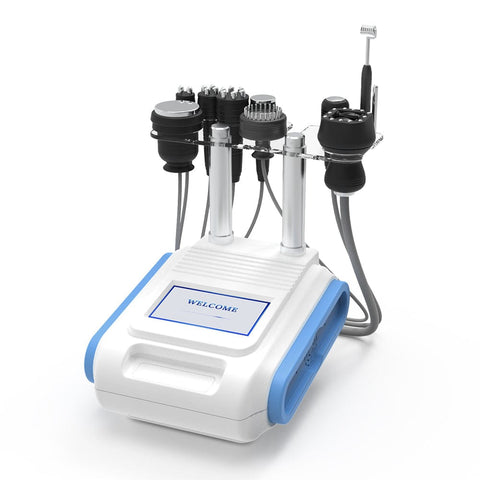 Principle
Unoisetion Cavitation 2.0
1 .Unoisetion Cavitation 2.0
Unoisetion Cavitation 2.0 is offering a new treatment which we believe can potentially replace traditional cavitation. Unoisetion customers can get results they are satisfied with, without having to undertake buzzing and noise in ears
How Unoisetion Cavitation 2.0 Work?
Unoisetion Cavitation W.0 therapy makes it possible to apply concentrated levels of unoisetion cavitation 2.0 energy to specific treatment areas. This type of therapy targets and destroys subcutaneous fat cells in the fat cell membranes through a series of microscopic implosions. Once the fat cell membrane (adipose tissue) is destroyed, the fat is discharged between the cells where they are turned into protein and then changed to free fatty acids and glycerol. Free fatty acids are moved to the liver where they decay and are removed from the body while water-soluble glycerol is transported to the circulatory system and used as energy.

2.Vacuum RF
Non-automatic Roller Vacuum RF
1. The synergistic combination of vacuum roller and conducted RF energy increases the oxygen intracellular diffusion by heating skin.
2. The technology that vacuum folds skin makes RF energy penetrate a specific folded skin, significantly improving effect and safety, even for the upper eyelid area treatment.
3. Vacuum plus specially-designed rollers manipulate leads even RF penetration (5-15mm). Meanwhile, vacuum and roller mechanical tissue manipulation nips and stretch fibrillar connective tissue, effectively break down subcutaneous fat as well as the extruded capillary vessel, increase lymphatic drainage, promote metabolism and reduce or shrink the size of the actual fat chamber, thereby greatly improving body shaping effect.

3.3D Smart Radio Frequency
The use of bipolar SMART RF( radio frequency) with an associated vacuum device allows for precise deep dermal heating of the collagen followed by collagen remodeling. It has been successfully used in clinical trials for the operation of rhytides and skin laxity.The heat generated by passing RF energy through the skin shrinks dermal collagen and promotes the formation of new collagen.The vacuum suction element confines the heating effect between two RF operation electrodes for greater specificity. The operation head is connected to a vacuum pump that draws the skin between two parallel sets of electrodes located in the tip. High frequency electrical (SMART RF) current is passed through the skin. A flat surface delivers current more efficiently, so suction induced skin deformation provides an effective contact. As such, the SMART RF operation depends somewhat on the thickness and coarseness of the skin in the target area. This mechanism induces mechanical stress on fibroblasts, leading to collagenesis and possibly a more dramatic improvement of the acne scar.

4.Galvanic
In accordance with opposites attract principle, it help to induct the necessary essence which heal skin disease into dermis and accelerate the absorption, meanwhile, it will educe the impurity.

5.Microcurrent & Photon for Skin care
The energy of irradiation can promote cells growth by 5 times, through starting cytochrome , it can promote to transform dextrose into ATP and increase the energy of cells's metabolization in order to stimulate to produce more collagen protein. Different lights have diffenrent impact on skin.
Curative Effect:
1). Red: Vitalize be suitable for any skin, promote blood circulation, and regenarate collagen protein in order to smooth skin and heal xerodermia, exuviation, degenerate losing hair and folliculosis.
2). Blue: Calm be suitable for sensitive, oil, and comedo skin-diminish and eliminate acne bacilus to remove acne, whelk, promote to compound protein with ossein, activate skin, tighten slack skin and gravidity winkle.
3). Green:Balance Normalize sebaceous glands ,Reduce black heads and sores, balance moisture.
4). Purple: Drain Renew skin, reduce wrinkles
5). Orange: Brighten whiten decompose pigment, and smooth scares
6). Turquoise: Defense strengthen the ability to protect skin, calm down, release stress,
7). White: Guide guide skin to absorb nutrients and anti-aging

6.Cold probe for calming down the skin
The temperature for the skin will be a little high after the treatment of the cavitation probe, vacuum probe and rf probes. Then use the the cold probe, it helps to calm down the skin, and shrink pores.

7.3Mhz Ultrasonic
Ultrasonic utilizes sonic vibrations; it works one million times per second (3 MHz). The ultrasonic wave could stimulate skin tissue and improve permeability of the membrane to promoted collagen tissue, reduced wrinkle and invisible appeared fine line, also lift the skin result for younger and healthy look. Ultrasonic generate frictional heat which accelerate blood circulation, muscle relaxation, and decompose the cellulite to break down exceed fat.
Ultrasound with 2 probes provided non-surgical lifting. This machine utilizes sonic vibrations to reduce lines, leaving the skin firm and smooth. Feature Intensity control, 2 sonic variations, and 2 sonic probes.
Advantage
A. Safety
Unoisetion New Cavitation Technology--Annoying noise in ears caused by cavitation will be reduced 3 times,the clinical data indicated, more comfortable weight loss experience for you

B Intelligence
Intelligence frequency adjustment technology can adjust the frequency according to the temperature of the derma during fat dissolve, people will not feel hot during treatment.

C Long lifespan
As we all know,more hotter the cavitation head, more shorter life time for cavitation head, so about 10 times working time can be prolonged by this new intelligence frequency adjustment technology and resulted in much money can be saved

D Incredible Results
On the other hand, the output power will be enhanced and its effective result can be seen fast

E. Digitization calibration
unoisetion utilizes the intelligent calibration technology what means it can adjust the frequency during whole treatment and calibratethe error of frequency by itself to make the output frequency keep the same frequency as before,in this way, the unoisetion cavitationwill make the result of body shape more effective(3 times as long as normal cavitation) and the handles' lifetime will be 10 times more than normal cavitation
Specification
Power supply Input:100V-240V
Power :190W

Uoisetion 40K cavitation Head:
Frequency:40KHz
Power:45W

Roller Vacuum 3D SMART Bipolar RF for body
Power supply output:66V
Frequency:3MHz
Power:30W

Sextupole Radio Frequency for Body
Freqeuncy:1MHz
Power:45W

Quadrupole Radio Frequency
Freqeuncy:1MHz
Power:35W

Bipolar SMART RF w/ vacuum for face&eyes
Freqeuncy:1MHz

Cold hammer:
Temperature: 0-5 degrees

Microcurrent &Photon
7 colors : Red, Blue, Green, Purple, Orange, Turquoise, White


Power:20W
Vacuum: <-80kPa
Pressure: >250kPa
Air flow: >10L/minute
Noise level: <70dB (30cm away)
Packaged
1 x Host
1 x 40K Unoisetion Cavitation 2.0 Handle
1 x Sextupolar 3D SMART RF Handle
1 x Quadrupole 3D SMART RF Handle
1 x Bipolar 3D SMART RF Handle
1 x Roller Vacuum 3D SMART Bipolar RF for body
1 x Bio/ Microcurrent Handle
1 x Ultrasound Handle for Face
1 x Cold Handle
1 xGalvanic
1 x Holder for handles
1 x Power line