Payment & Security
Your payment information is processed securely. We do not store credit card details nor have access to your credit card information.
Description
Model: DT-GS300
Pressure Slimming Suit Pressotherapy Body Contouring Weight Loss Machine SPA
Breast massage: operation of lobular hyperplasia.
Improve the shoulder, cervical and lumbar spine.
Slimming& massaging
Five parts separately Use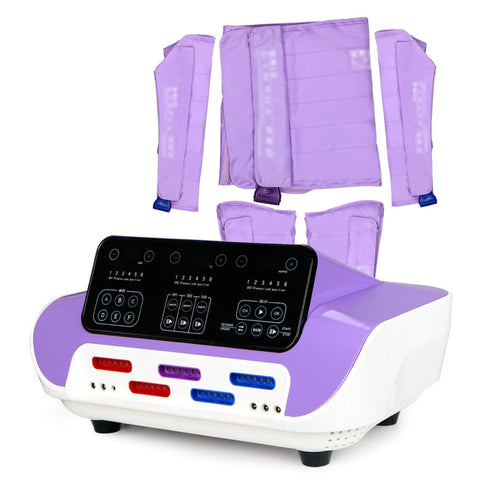 Principle
This aircraft is a popular multi-function body slimming device combined with functions of far-infrared cellulite treatment, air-pressure lymphatic drainage, as well as low-frequency stimulation. The aesthetic can operate the far-infrared heating after a massage, then start the lymphatic drainage operations, and lastly uses low-frequency to tighten skin, to achieve systematic and comprehensive effects of fat loss and size reduction.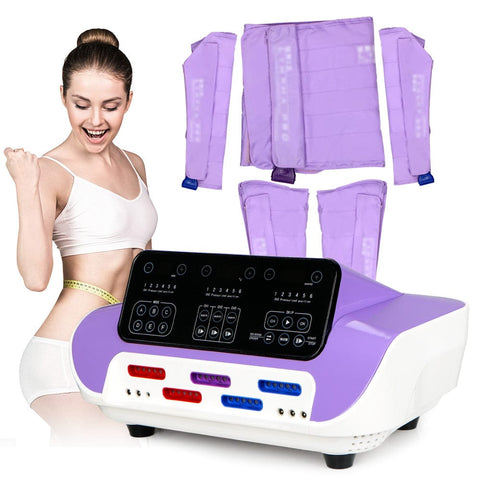 Benefits
1. Lymphatic Drainage
Designed sophistically, this instrument conducts the bioelectricity through the muscle to fat layer by electrode pads, forcing the muscle to do non-oxygenic exercise. These vigorous and intermittent exercise advance the energy consumption and fat-breaking process, promote waste excretion.
2. Air Press Toxin Eliminate
Equipped with five airbags for the arm, abdomen, thighs, and bootee, this air vibrant massager functions effectively in inner circulation improving body relaxation. Controlled by an intelligent system, ideal treating programs are available for you to choose from. Different working times, pressure, treating parts, and modes are available for you to adjust.
3. Far Infrared Sauna
Far infrared ray function becomes popular in weight loss treatment only for its deep heat effect and physical resonance. Far infrared ray conducts heat deep to 3 to 5 centimeters below the subcutaneous and breaks down the inner fat in quite a short time.
Functions
- Detoxify, lymphatic drainage, deep relaxation;
- Body shapes; tone body muscles;
- Body slimming;
- Improve the appearance of cellulite; Improved circulation.
- Good for people who follow an inactive lifestyle and suffer from the problem of swelling, puffiness, etc.
- Relieves pain, reduces stress, and fatigue by infrared
Specification
Voltage: 110V/120V-220V/240V
Frequency: 50 Hz - 60Hz
Power: less than or same to 500W
Safe voltage output: 36V
Heat output:0 degree centigrade-80 degree centigrade
Material: ABS
Package Include
1 x Host
1 x Power line
2 Bags x ballon power line
2 x Hand ballon
1 x Waist ballon
2 x Leg ballon
1 x Instruction