Payment & Security
Your payment information is processed securely. We do not store credit card details nor have access to your credit card information.
Description
Bio-Light Therapy LED Photon Anti-aging Beauty Machine
Model: LT-SPL20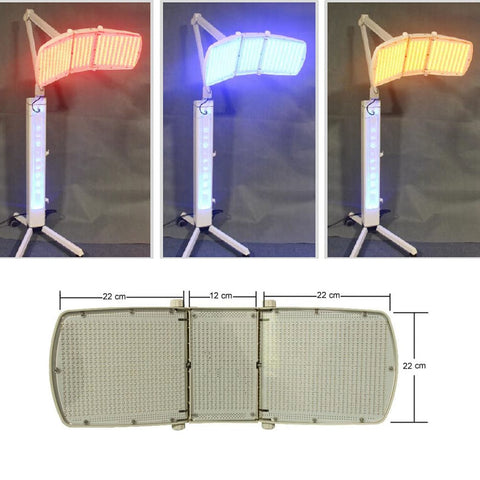 How Does It Work?
Bio-Light Therapy is the interaction of light, delivered through Light Emitting Diodes (LEDs), to cause bio-stimulation on cell receptors.
It encourages natural cell renewal and healing. By stimulating these actions, damage caused by the sun, the environment, natural aging, and other external factors can be safely and painlessly remedied.
Moreover, various studies around the world suggest it can stimulate blood and lymph circulation, decreases inflammation, and improve cellular metabolism and protein synthesis (collagen).
Features of Bio-Light Therapy
First, treatments are less expensive than other light-based therapies. Second, the main benefit of Bio-Light Therapy is a reduction in the appearance of fine lines, wrinkles, freckles, brown spots, scars, and the amount of redness. In addition, the treatments are pain-free with no downtime at all.
Applications
Acne treatment
Bio-Light Therapy helps anti-aging and skin rejuvenation
Improving lymph circulation
Reducing fine lines, wrinkles, stretch marks
Curing skin diseases
Repair traumatized skin caused by laser treatment
Anti-hair-loss and hair regrowth
Wound recovery
Accelerate skin absorption of cosmetics
Advantages of Bio-Light Therapy
Seven types of specific light sources for clinical treatment; (Red, Blue, Yellow, Red+Blue, Red+Yellow, Yellow+Blue, Red+Blue+Yellow)
Non-risk of burning with Safe optical technology;
High power SMD LEDs, pure light, and enough energy;
Large treatment area within short-time therapy;
No need for special care after treatment;
For any skin type, no side effects;
Easy to use, no need of professional operator;
Comfortable,non-invasive, and no downtime;
Stable and continuous work; no any other special consumable materials;
A wide range of applications for clinics or beauty salons.
Specification
LED Colors: R, B, Y, R+B, R+Y, B+Y,R+B+Y (R-red, B-blue, Y-yellow)
Light Power: 1-10 Levels
Max: 60mw/LED
Light Frequency: 0-110 Hz(0 means continuous mode)
Time: 1~60 minutes
Treatment Area: 55cm×24cm
LED Numbers: 1420 SMD LEDs
Gross Weight: 15 KG
Dimension: 70cm×45cm×142cm
Packing Size: 92cm×52cm×30cm
Electrical: 100-240Vac,50/60Hz(self-adaptive)