Payment & Security
Your payment information is processed securely. We do not store credit card details nor have access to your credit card information.
Description
Model: MS-7202UX

Double Handles  Cavitation RF  Systerm Frozen Slimming Cellulite Removal Beauty Machine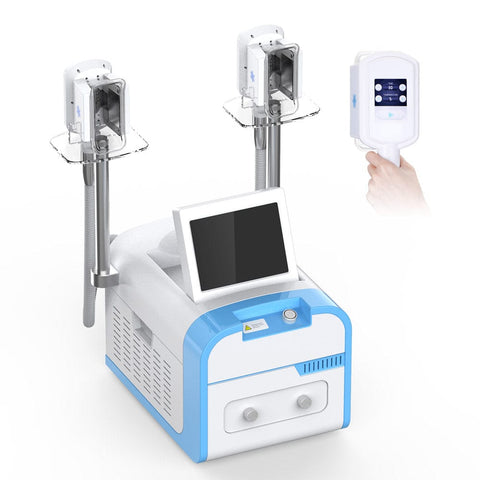 Double vacuum cooling systerm slimming
Ultraosound Cavitation for Fat and Cellulite Dissolve
Multipolar RF Body Skin Tightening and Lifting
Led Photon for Skin Rejuvnation,Smooth and Whitening
Ultraosound Cavitation for Fat and Cellulite Dissolve
Priciple
Cooling Technology working Principle
As triglyceride in fats will be converted into solid in particular low temperatures,It uses advanced cooling technology to selectively target fat bulges and eliminate fat cells through a gradual process that does not harm the surrounding tissues,reduce unwanted fat, When fat cells are exposed to precise cooling, they trigger a process of natural removal that gradually reduces the thickness of the fat layer. And The fat cells in the treated area are gently eliminated through the body's normal metabolism process, to eliminate unwanted fat.
Radio Frequency
It uses 3Mhz RF Body
And It is the Efficacy of Combined Skin Tightening and Fat Reduction.
Combining led Fat Dissolve and radiofrequency is a logical approach to achieve skin tightening and fat reduction without . We explore the practicality and value of combining led Fat Dissolve and Tripolar radiofrequency to achieve skin tightening and localized fat reduction in the submental, neck, and jowl areas. Morbidity, patient acceptance, and patient satisfaction were assessed.
40K cavitation
It uses a 40kHz focused ultrasound cavitation effect, to cause tons of microscopic air bubbles to surround the LEDcyte (fat cell) membranes and with its resonant frequency, the bubbles cause a high enough to cause the fat cells to break up instantly.
The brokenLEDcytes are then moved to the liver and safely metabolized out of human body which is assisted by drinking a lot of water.
It produces cold slimming of fatty acids from adipocytes (fat-laden cells) due to a phenomenon known as stable cavitation, and increased cell permeability of the adipocytes. You get an increased flow of triglycerides. Furthermore, there is a breakdown of the fibers through mechanical action (jet stream). Finally, some content of adipocytes is metabolized by the liver and eliminated in the urine.
Application
Intensive physical led to remove fat
Excess fat cell melted
Body slimming,cellulite reduction
Smooth fatigue
Remove obstruction from channels and collaterals
Promote and accelerate the body's metabolism
Parameters
Rated input voltage:AC220V-240V 50HZ /AC110V-120V 60Hz
Rated input power:350VA
Cool cold slimming Vacuum
Power:Up to 200W
Cooling device output temperature:5~ -5°C
Cooling device output :0-5Kpa
Cooling liquid: pure water
Cavitation frequency : 40KHz
Cavitation Power:up to 60W
Cavitation tip:60mm diameter
RF for body
RF frequency:3MHz
RF power:up to 30W
RF type:six polar with 100mw LED
RF tip:65mm diameter
Packing Listing
Main maichine x 1
Fat freezing vacuum handles x 2
40Khz cavitation head x 1
Octopole RF for body x 1
Bipolar RF for face x 1
Stand x 1
Power supply wire x 1
Filterx 1