Payment & Security
Your payment information is processed securely. We do not store credit card details nor have access to your credit card information.
Description
Model: MS-7301F
Three Handles Fat Freezing Vacuum Cellulite Removal Slimming Machine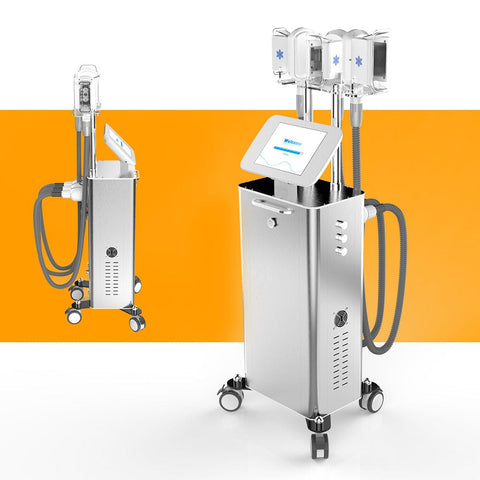 Three handles work together or separately, two Language for choose on display-Spanish&English
Fat freeze,more reliable-adopt the latest cooling technique, self- protect program, stable temputure control, salon design
Cooling operation beauty equipment, low temperature can reach to -10°C to 15°C, up to 80 Kpa ,time to 60 mins, more effective
No side effects, good effects, no rebounding phenomenon,Noninvasive
Extensive operation: It could be applied to anyone's sagging skin and aging skin,Suitable for all type skin
Less treatment time, less operation steps(three size handles work together to save treatment time)


Principle
Cooling Frozen fat Removal is a non-invasive body contouring treatment used to reduce fat cell volume by freezing. It's an innovative way to contour your body by freezing unwanted fat away with no surgery and little to no downtime.
The method involves the controlled application of cooling within the temperature range of +5 to -10 °C for the non-invasive, localized reduction of fat deposits, intending to reshape the contours of the body. The degree of exposure to cooling causes cell death of subcutaneous fat tissue, without apparent damage to the overlying skin. The method has a low rate of complications and is deemed to be safe and effective for fat reduction by about 20% at certain body sites.
Cooling vacuum handle
There are three cooling handles, they can work together or separately.
Three size to choose:167*63*86 mm (big size); 142*57*86 mm (medium size); 142*57*86 mm (small size)
Treatment area: fat under the buttocks(also known as banana roll), flanks(also know as love handles),thighs, abdomen, bra fat, back fat. You can choose the handle depend on the treatment area.
Please use anti freezing membranes when use the cooling handle.
Advantages
-Three Size handles work together or separately, self- protect program, stable temperature control
-Two Language for choose on display-Spanish&English
-Color touch screen, easy to operate.
-Cooling operation beauty equipment,temperature can reach to -10°C to 15°C, up to 80 kpa ,time to 60 mins
-No side effects, good effects, no rebounding phenomenon,Noninvasive
-Fat freeze,more reliable-adopt the latest cooling technique in the world. Apply exactly to targeted tissue varying from area to area to achieve high operation efficiency,Low energy output to ensure a comfortable and painless operation course
-Extensive operation: It could be applied to anyone's sagging skin and aging skin,Suitable for all kinds of skin.
-Less treatment time, less operation steps(three size handles work together to save treatment time)
Parameters
Power supply Input:100V-240V
Power : 500W
The cooling vacuum handle
Power:72W
Vacuum: 0-80Kpa
Output temperature: -10 to 15°C
Size(Optional):167*63*86 mm (big size); 142*57*86 mm (medium size); 142*57*86 mm (small size)
Led light: Red(630nm-650nm)
Cooling system:air and water
 Package Including
1 x Host machine
3 x Cooling Vacuum handle(optional)
1 x Holder for the cooling handle
1 x Power cord Both 110v and 220v voltage (frequency: 50/60Hz) version are available. Also we stock the USA, UK, AU, EU plug to suit for the country all over the world.)