Payment & Security
Your payment information is processed securely. We do not store credit card details nor have access to your credit card information.
Description
Model: MS-33J1
Microcurrent Body Shaper Electrotric Stimulation Breast Enhancement Equipment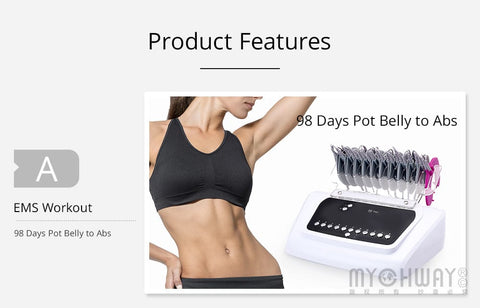 Functions
Reduce cellulite
Removing Body Fatigue and Stress
Llift and Firm Slack Muscle, Shape Body Line
Relieving Arthritis, Arthralgia, Rheumatism
Prevent Breast Cancer and Relative Diseases
Overview
2 in 1 EMS Body Slimming Machine
By creating an electronic pulse to stimulate special points on the body, this 2 in 1 EMS body slimming machine effectively exercises muscle and nipple, relieves various body pain, promotes blood circulation, accelerate metabolism,
help lose weight, lift and firm skin, and enhance breasts, bringing you a charming body line and keeping you fit.
What Can 2 in 1 EMS Body Slimming Machine Do?
2 in-1 EMS body slimming machine combines pulse pads for the body and breast, the following treatment is the benefits of this machine:
- Reduce cellulite
- Enhance blood circulation, removing body fatigue, and stress.
- Lift and firm slack muscle and muscle mass for slimming and shaping body line.
- Effectively treating cervical and lumbar cervical and lumbar vertebrae stains due to work
- Relieving arthritis, arthralgia, rheumatism
- Unclogging mammary gland, developing strong and beautiful breasts
- Faradic stimulation to prevent breast cancer and relative diseases.
Features of 2 in 1 EMS Body Slimming Machine
- Advanced controller with micro-computer system and digital display.
- Ten pairs of silicon gel electrode pads with ultras strong electrical conductivity and infrared.
- Ten groups of electrode pulse outputs, independent working, or simultaneous working.
- Five different pulse waveforms, adjustable massage intensity, auto circulation.
- Attaching the electrode pads with elastic bandages, without shedding.
Applicable Symptoms
- Physiological obesity and dietary obesity
- Muscle sag
- Flat and saggy breast
- Cervical spondylosis
- Periarthritis of shoulder
- Soft tissues, nerve injury
- Chronic lumbar muscle strain
- Pain in the waist and lower extremities
- Sciatica pain, neurasthenia
- Rheumatic arthritis
- Shoulder, hip and waist, back and legs recovering therapy
Parameter
Voltage: 240V/50Hz or 220V/50Hz or 120V/60Hz
Rated power: <=40W
Working current: <=50MA
Pulse output: 10 channels
Maximum treatment time: 90 minutes
Pulse waveforms: 5 modes
Pulse frequency: 30Hz/s ~ 800Hz/s
Pulse power: 0 ~ 270 angels adjustable
Pulse speed: 3 levels adjustable
Shink time: 0.1 ~ 5s
Loose time: 0.1 ~ 5s
Machine dimension: 40cm*27cm*13cm
Packing size: 47cm*35cm*23cm
Package list
1 x 2 in 1 EMS Body Slimming Machine Host
1 x Accessories Holder
10 pcs x Electrode Pads
1 x Breast Pad
1 x Electrode Lines
1 x Elastic Bandage
1 x Power Cord