Payment & Security
Your payment information is processed securely. We do not store credit card details nor have access to your credit card information.
Description
Model: SR-SP20
Glowskin O+Facial Skin Care Rejuvenation Oxygen Beauty RF Machine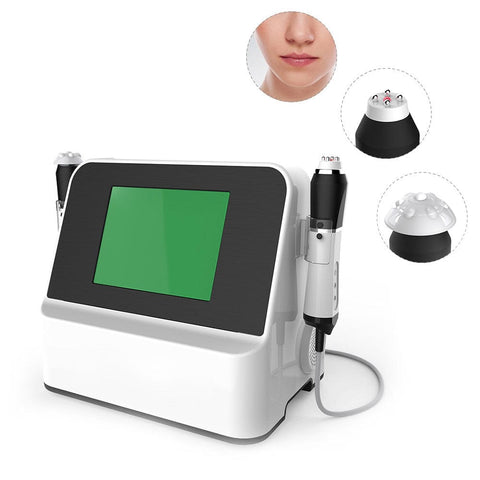 Work theory
Glowskin O+ carbon oxygen beauty machine takes its inspiration from natural hot springs known for inducing skin oxygenation. By simulating this effect, triggers a body response that sends oxygen to the treated area. At the same time exfoliates the skin and creates an optimal environment for infusionof essential nutrients both during and after treatment. The ability to layer Radio Frequency induces collagen and elastin regeneration in the dermis layer, which leads to smoother and tighter skin and a reduction in fine lines and wrinkles.
Application
Supply oxygen to skin
Skin smooth
Skin tightening
Black heads removal
Skin moisturizing
Advantage
Powerful additional functions, with detoxification suction pen, BIO face lift wrinkle, effect more secure.
High-tech treatment techniques, the operation is more accurate, simple, water and oxygen can be fully integrated.
Water, oxygen pressure regulating different parts of the treatment, the skin of different ages.
Repetitive stimulation of oxygen and water to avoid skin edema
Super-cooling device, more stable performance, higher safety factor
With quick plug-in connectors, connection is more convenient, simple
What's the treatment theory of carbondioxide oxygen machine
BOHR effect release oxygen to skin
Water dermabrasion for skin cleaning and black heads removal
Cool and heat system to contract pores and expand pores for helping solution absorption.
4D radiofrequency for skin tightening
Oxygen spraying system for skin cleaning and solution injecting
Supersonic for eye around and face
Parameter
Voltage: AC100-240V 50/60Hz
Power: 36VA
Fuse specification: FL5X20\3.15A With buffer (with spare fuse)
Output RF: 2 MHz
Package List
1 set x Host
1pcs x BOHR effect C & O handle
1pcs x 4D - circle RV handle
1 copy x User manual
1pcs x Power supplye line
1 box x Shiny and rehydrate head
1 box x Exfoliation and tightening head
12pcs x Skin beauty gel
1pcs x accessories frame
4pcs x Black countersunk hexagonal screw (M4X8)
1pcs x Hexagnal screw wrench ( M2.5)