Payment & Security
Your payment information is processed securely. We do not store credit card details nor have access to your credit card information.
Description
Lipo Laser Machine with 14 Pads for Body Slimming 
Model: WL-UU1401
Why do we choose this lipo laser machine?
Low-level laser (light) therapy (LLLT) is a non-surgical, non-invasive that uses for body shaping. Adopting cutting-edge laser lipolysis technology, our lipo laser machine (model: WL-UU1401) breaks down the fat cells in a non-destructive way, delivering the desired body-shaping results.
Through low-level laser energy, the fat cells break down stored triglycerides into free fatty acids, glycerol, and water. The body responds by transporting these fatty acids via the lymphatic system for energy, leading to fat cell shrinkage and body-shaping results.
Overall, the machine's targeted fat reduction and circumferential reduction have numerous advantages, making it a popular choice for those seeking non-surgical body shaping solutions.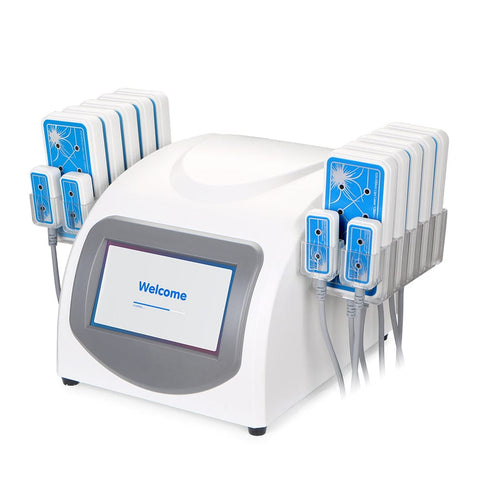 Advantage
1. No Side Effects: Our treatment is completely safe, with no bleeding, pain, or side effects.
2. Wide Use: Our Lipo Laser Machine can be used on various body parts, including the neck, breasts, back, knees, hips, thighs, bottom, and arms.
3. Cost-Effective: With a fast return on investment, our Lipo Laser Machine is an affordable option for anyone looking to achieve their desired body shape.
4. Easy to Use: Our system is easy to operate and requires minimal staff time or productivity. There is no need to compromise your daily routine.
Technical Parameters
Laser wavelength: 635nm ~650nm
Energy output :14080mw(88 x 160mw)
Mains power output: 100VA

Safety: Onboard diagnostics

Classification: Electrical Class 1, Type B applied part

Cooling requirements: Air cooled

Electrical requirements: 240V/5A/50Hz 110V/5A/60Hz

Mode of operation: Continuous
Packing included:
1 x Power line(We offer 100-240 V , AU/EU/UK/AU plug)

10 x Big paddle with 8 laser//Each (Total 80 laser)

4 x Small paddle with 2 laser //each (Total 8 laser)

1 x Metal holder for paddles