Payment & Security
Your payment information is processed securely. We do not store credit card details nor have access to your credit card information.
Description
Model: MY-16101B
2017 New 5mw LLLT LED Laser Lipolysis Weight Loss Fat Burning Removal Machine 12 Big+4 Small Pads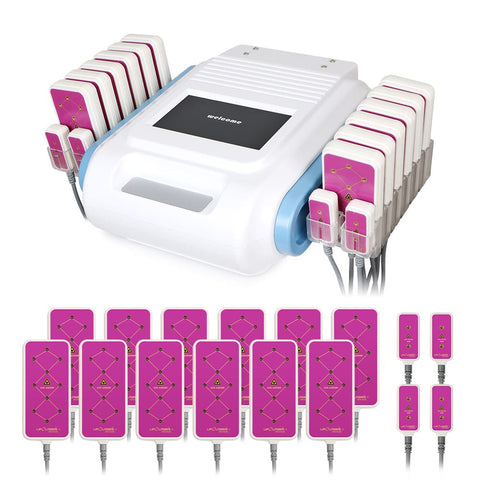 Theory
LED Lipo Laser (or Laser Lipolysis) is a revolutionary treatment for removing excess fat tissue in areas that are normally resistant to diet and physical activity. LED Lipo Laser not only helps to slim and sculpt the body but also helps to tighten loose skin.
The LED Laser Liposculpture procedure uses a 635nm-650nm LED laser to heat the fat cells in the target area, causing them to break down. Finally, in a very short period of time, the fat deposits are simply absorbed and excreted through our body's natural metabolic processes.
During the procedure, the laser seals small blood vessels, significantly reducing bruising and patient downtime. The LED laser pads introduce heat into the treated area stimulating collagen production, resulting in a smooth, tightening, and sculpting effect.
FAQs of LED Lipo Laser
1. Do I need repeat treatment after LED lipo laser?
Generally, one lipo laser treatment per single area is usually adequate to achieve the required results. However, after 6 months if the results are unsatisfactory there is the opportunity for repeat treatments.
2. Is lipo laser a long-term solution?
How permanent the weight loss is, is determined by your lifestyle following treatment. The lipo laser treatment destroys the accumulation of the fat in the treated area then leaves a long-term solution. However, maintenance of this fat loss is dependent on a healthy diet and exercise.
3. How quickly will I see the results of LED lipo laser treatment?
You will see the results of the lipo laser treatment periodically. Initially, you may notice some minor changes, but it will be one to two months before significant changes are witnessed. The body will continue to naturally remove the treated fat for a long period of time, which may then take up to twelve months to achieve the final result.
4. Which body areas can I target?
The lipo laser treatment is normally used for smaller areas of the neck, breasts, back, knees, hips, thighs, bottom, and arms. However, any area diagnosed as containing loose fat will be susceptible to treatment.
5. What is the difference between an LED Laser?
The procedure is similar to with some differences that may make LED Laser a good alternative to traditional. LED Laser essentially permanently removes your excess fat however without the suction removal of the fat. The body fat is dissolved or liquefied (turned into liquid) using a medical laser instead of suction.
Warm Remind
1. During the LED lipo laser treatment, the operator should care if the temperature is so higher, adjust the intensity from lower to higher, find the best intensity for the patient's body.
2. Do not suggest USE 160mw machine work it on the face.
Specifications
Laser wavelength: 635nm ~ 650nm
Energy output : 128 x 5mw
Mains power output: 100VA
Classification: Electrical Class 1, Type B applied part
Cooling requirements: Air-cooled
Electrical requirements: 100v--240V
Packing Listing
1 x Power line(We offer 100-240 V , AU/EU/UK/AU plug)
12 x Big paddle with 10 lipo //5mw Each (Total 120 Lipo)
4 x Small paddle with 2 lipo //5mw each (Total 8 Lipo)
1 x Metal holder for lipo paddles