Payment & Security
Your payment information is processed securely. We do not store credit card details nor have access to your credit card information.
Description
Model:MS-4481
Ultrasonic Cavitation Weight Loss Photon Three Pole Multipolar Vacuum Bipolar RF Cavitation Machine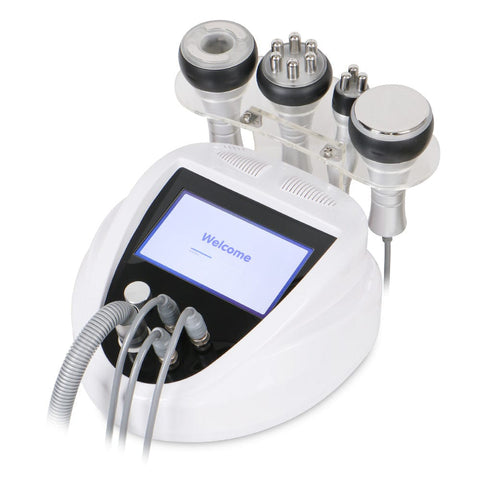 Overview
Cavitation 1.0 version, it can stimulate your own fat burning ability to quickly and easily break down fat cells. Combined with radio frequency technology, the skin is firmed and fat is reduced, making you young and beautiful. The 4-in-1 machine can precisely align almost any problem area of the body. This process is completely natural-it uses the body's own inherent process to remove fat cells.
The feature of 4in1 40K Ultrasonic cavitation machine
- No downtime, no adverse side effects, no surgery, no scars or discoloration, no pain or discomfort, no heat damage.
- It can be used almost anywhere on your body that bears overweight.
- Aim at the surface and depth of the skin and directly enter different skin layers.
- You will not feel discomfort during and after the operation.
- Results are usually immediately visible
The benefit of 4in1 40K Ultrasonic cavitation machine
- Remove wrinkles, eliminate scars, restore skin elasticity and luster, and make it fair and smooth.
- Enhance blood circulation, accelerate fat decomposition, take away waste products, enhance the effect of removing cellulite, and effectively improve the state of areola tissue.
- Release skin cells, restore elastic skin to its original firmness, stimulate muscle tension, eliminate wrinkles, prevent skin aging, restore skin elasticity, and improve face.
In which areas is the 4in1 40K Ultrasonic cavitation machine more effective?
All parts of the body where local obesity is located; therefore, legs, abdomen and buttocks are the most suitable parts, but there are no real restrictions on body parts.
Specification
Unoisetion 40K Cavitation Probe
Frequency:40KHz
Power:15W

Sextupolar 3D RF for Body
Frequency:1MHz
Power:50W

Vacuum Biploar 3D RF Handle
Freqeuncy:1MHz
Power:10W
Vacuum: <-80kPa
Pressure: >250kPa
Air flow: >10L/minute
Noise level: <70dB (30cm away)

Three pole 3D RF Handle for face
Frequency:1MHz
Power:30W

Dimensions:400*350*260mm
Net Weight: 5.15kg
Gross Weight:5.85kg
Input Power: AC110V/220V 50/60Hz
Display: Touch Screen
Package Including
1x 40KHz Cavitation Head
1x Multipolar RF Head for Body
1x Vacuum Bipolar RF Head
1x Three Pole RF Head for Face and eyes' around
1x Power cord