Payment & Security
Your payment information is processed securely. We do not store credit card details nor have access to your credit card information.
Description
Model: MS-7005FX
Lipo Unoisetion Cavitation RF Skin Tightening Weight Loss Machine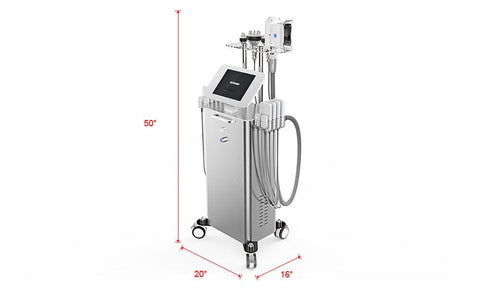 Overview
MS-7005FX Vertical stand professional stubborn fat freezing slimming machine with unoisetion ultrasonic cavitation fat dissolve system, octupole 3D SMART RF With Photon, bipolar 3D Smart RF wrinkles reduction and lipo laser fat treatment
The special advanced design is the dual way operation system control, the aesthetician can set the parameters by operation system on the host or the operating system touch screen on the handpiece, it is convenient to operate and save time, more safe and fast.
Features
1. 5in1 Functional machine, can help the salon to save money and place to do treatment for the patient
2. Intelligent water temperature control and water circulation alarm system, safer to operate
3. The LCD screen on the handle, can help to set up the parameter easily
4. Dual control ways with touch screen, vertical stand design with rolling wheels
4. Professional OEM, ODM system, when you have a special request, contact us any time
Application
1. Fat freezing handles for weight loss.
2. Unoisetion cavitation 2.0 and octupolar smart 3D RF help fat dissolve and fatty acids expel
3. Strengthen and tighten skin after fat reduction and treatment
4. Bipolar Smart 3D RF radio frequency wrinkle removal
5. Lipo laser fat cells burning to help weight loss