Payment & Security
Your payment information is processed securely. We do not store credit card details nor have access to your credit card information.
Description
Model: MY-8171
650NM 5MW LED Laser Body Slimming Machine with 6 Big 2 Small Pads 320MW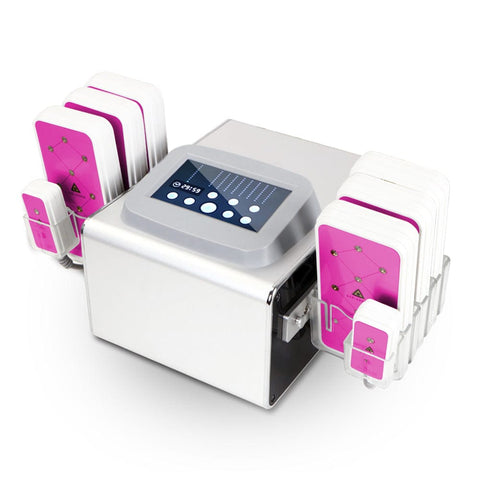 Introduce
LED Laser (or laser lipolysis) is a revolutionary treatment that removes excess fat in stubborn areas. It uses a 635-650nm LED laser to heat and breaks down fat cells, which are then eliminated naturally. This procedure reduces bruising and downtime by sealing off minor blood vessels. Additionally, the heat stimulates collagen production, resulting in a smooth and sculpted appearance.
Specifications:
Laser wavelength: 635nm-650nm
Energy output: 64x5mw
Mains power output: 100VA
Classification: Electrical Class 1, Type B applied part
Cooling requirements: Air cooled
Electrical requirements: 100V-240V
Packing Listing
1 x Power line(We offer 100-240 V , AU/EU/UK/AU plug)
6 x Big paddle with 10 //5mw Each (Total 60 )
2 x Small paddle with 2 //5mw each (Total 4 )
1 x Metal holder for paddles
1 x Power Supply Cord ( Both 110v and 220v voltage (frequency: 50/60Hz) versions are available. Also we stock the USA, UK, AU, and EU plugs to suit the country all over the world.)
Important reminders:
The operator should monitor the temperature and adjust the intensity accordingly during the treatment to find the best intensity for the patient's body.
LED Laser should not be used on the face.
FAQS
Is one treatment enough or are repeat treatments required? Typically, one treatment per area is sufficient, but repeat treatments are available after 6 months if needed.

Is LED Laser a long-term solution for weight loss? The longevity of the weight loss is dependent on a healthy diet and exercise following treatment. The procedure permanently removes fat in the treated area.

How soon will I see the results from the LED Laser treatment? Results will appear gradually over the course of several months, with noticeable changes within 1-2 months and full results possibly taking up to a year.

Which body areas can be treated with LED Laser? The treatment is usually used for small areas such as the neck, breasts, back, knees, hips, thighs, bottom, and arms. However, any area with excess fat can be treated.

What sets LED Laser apart from traditional liposuction? LED Laser dissolves fat cells with a medical laser, while traditional liposuction suctions the fat out. LED Laser may be a good alternative for those who prefer a non-invasive approach.