Payment & Security
Your payment information is processed securely. We do not store credit card details nor have access to your credit card information.
Description
Model: HR-GX002
New 755nm/808nm/1064nm Diode Laser Painless Permanent Body Face Hair Removal Equipment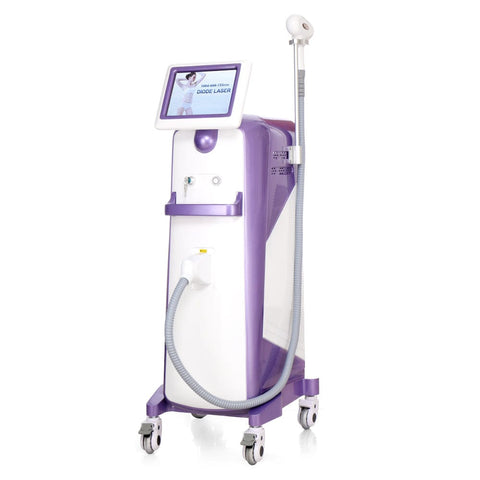 Principle
Diode laser hair removal technology is based on selective kinetics of light and heat. The laser passes through the surface of the skin to the root of the hair follicle; light energy is absorbed and converted into heat to destroy the hair follicle tissue, allowing hair loss to regenerate without damaging the surrounding tissue. Slight pain, easy to operate, safest, and technology for permanent hair removal now.

The diode laser device uses 755, 808, 1064nm, which has no damage to the hair follicle melanocytes and no damage to surrounding tissues. The laser beam can be absorbed by the melanin in the hair shaft and hair follicles and converted into heat energy, thereby increasing the temperature of the hair follicle. When the temperature rises enough to irreversibly damage the hair follicle structure, the hair follicle structure disappears after a period of natural physiological processes, thereby achieving the purpose of permanent hair removal.
What is the IPL?
Intense Pulsed Light (IPL) is a high-energy, wide-wavelength light
The range is from 530 nm to 1200 nm. Photothermal and photothermal effects will be triggered
Leaves skin smoother, On the other hand, long-wavelength light
Easy to penetrate the epidermis, the pathological pigments destroyed by high temperatures are preferentially absorbed and have the effect of removing pigmentation, vascular lesions, and excess hair.

When the laser is irradiated on the skin with uneven skin tone, it causes the melanin to decompose on the surface of the skin and then excrete through the stratum corneum.
It can easily remove melanin, truly whitening. The machine can focus on shadow points, dilute melanin, promote dermal collagen and elastic fibers, and eliminate skin wrinkles, just like applying powder on your face.
Technical Parameters
Laser type: semiconductor laser                 
Laser wavelength:755nm, 808nm, 1064nm
Working frequency: 1--10Hz adjustable        
Operating language:English                  
Output mode: pulse output  
Shell material: ABS plastic + metal   
Cooling system: semiconductor refrigeration + water + air cooling constant temperature cooling       
Handle temperature:-10--5℃  
Supply voltage: AC220V, AC110V (can be customized)

Features
1. Different skin type treatment protocol is offered.
2. Fast mode is designed for painless and fast hair removal. Energy density and frequency can be set freely.
3. The handpiece cooling function assures safe and comfortable treatment.
4. Emergency switch, key switch, and footswitch are set for safe use.  
5. This machine is intelligent control and touch operation. The visible display makes the operation easy, safe and convenient.
Notices
Before hair removal
1. Wear operator glasses
2. The operator should have got through training courses offered by the supplier.
3. Clean the treatment area thoroughly, and shave the hair.
4. Do not pull out hair in the way like waxing prior to use "LS-808 I" within 6 weeks, or the laser therapy does not give best results.
5. Avoid sun burning especially for dark skin. It is highly suggested to use sun lotion for about 4-6 weeks before treatment or use some medicine like hydroquinone.
6. Try to avoid sun exposure to decrease the rate of side effects.
7. It is good to take test treatment on small skin sites first and observe for 15 minutes before taking large area treatment.
Pacakge including
Handle x 1         
Handle bracket x1
Water funnel x1
Power line x1
Operator Glasses x 1
Treatmentor glasses x 1
Filter x 1