Payment & Security
Your payment information is processed securely. We do not store credit card details nor have access to your credit card information.
Description
Model: TS-SK3
Portable Digital LCD Skin Facial Moisture Oil Analyzer Tester Monitor Analyzer Tool For Skin Care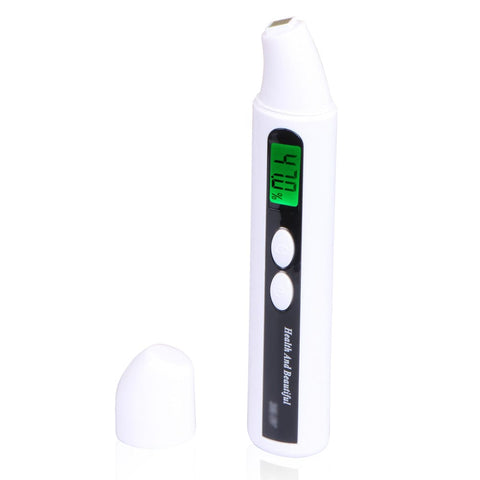 Product Description
The New Digital Skin Moisture Meter is the right tool for measuring humidity in your skin. This instrument utilizes the latest Bioelectric Impedance Analysis (BIA) technology, a nondestructive measuring approach in providing accurate reading to help you monitor your skin hydration to maintain a young and healthy looking skin.
Its so easy to use, just turn it on, touch the probe on your skin and see the skin condition with real figure on its easy-to-read LCD display. This analyzer lets you know how good or how bad your skin condition is. This is so compact that you can even place it in your pocket.It is battery operated, so you'll be able to use it anytime and anywhere
Features
- Utilizing the advanced Bio-electric Impedance Analysis(BIA) technology, it can measure accurately.
- Small in size and fashion in appearance, you can carry it with you to detector your skin at any time.
- The probe is well protected by a plastic cover to provide dust, giving your skin a great experience.
- Easy and quick to use, you just need to take over the probe and press the power button and touch your skin with the protected probe.
- LCD display makes the figures more clear and accurate.
- Keeping you aware of your current skin condition and you can choose the skin care products that fits you.
Technical Parameters
Material: ABS
Color: white
Battery Needed: 2*AAA battery(not included in package)
Operating Temperature: 5-40°C
Item Weight: 45g / 1.59ounce
Item Size: 170*30*24mm / 6.69*1.18*0.94in
Package Weight: 167g / 5.89ounce
Package Size: 195*98*38mm / 7.68*3.86*1.5in
Moisture Reference Guide
Spring / Autumn (Fall)
ZONE: Normal Humidity Range
Forehead: 35 - 55%
Contour of your Eyes: 45 - 55%
Cheeks: 35 - 55%
Palms of Hands: 45 - 65%
Arms: 40 - 50%
Hands: 35 - 55%
Summer
ZONE: Normal Humidity Range
Forehead: 40 - 60%
Contour of your Eyes: 50 - 60%
Cheeks: 40 - 60%
Palms of Hands: 50 - 65%
Arms: 45 - 55%
Hands: 40 - 60%
Winter
ZONE: Normal Humidity Range
Forehead: 30 - 50%
Contour of your Eyes: 40 - 50%
Cheeks: 30 - 50%
Palms of Hands: 40 - 55%
Arms: 35 - 45%
Hands: 30 - 50%
Package Included
1 * Digital Monitor Pen
1 * User Manual