Payment & Security
Your payment information is processed securely. We do not store credit card details nor have access to your credit card information.
Description
Model: SR-WDS611
5 In 1 Acne Wrinkle Removal Nutrition Plus 3MHz Ultrasound Galvanic ION Biowave Portable Device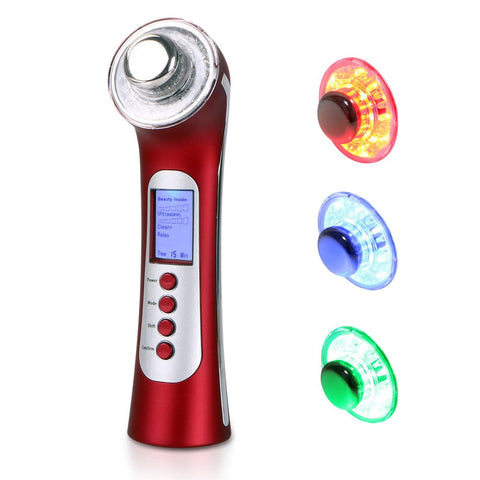 Principle
Ultrasound  Function:
Vibration Cleansing
The first step to skin care is an effective skin cleaning. Because makeup, cosmetics, dirt and oily secretions can cause clogging of our skin pores, which in turn causes enlarged skin pores, black heads and pimples, and also affects the absorption of skin care nutrients. Skin Rejuvenation provides the most effective cleansing with its advanced vibration massaging technique. It removes dead cells, opens up skin pores, and clear away makeup residues and oily secretions. Moreover, blue light at 415 nm has effective disinfection function. It can reduce the oily secretion and destroy the bacteria that actually cause acne.
Galvanic ION function
Galvanic IONS deeply cleanses the skin of impurities that can cause a dull and lifeless appearance. this process happens when negatively charged IONS attract and encapsulate toxins, preparing them to be removed. Following up on this, the positive IONS work to attract the encapsulated impurities from within the skin. Not noly does this treatment leave the skin thoroughly clean, but also improves oxygenation and circulation, which promotes cellular health and helps to stave off free-radical damage and premature ageing.
 Parts
1.turn on the device and select "nutrition/ION-"or "Nutrition Plus/ION-&Ultrasonic", for this treatment use a water-based cosmetic such as a toner, water, essence, essential oil, gel or a liquid.
2.Slowly move the device around the face, spending 10-15 seconds on each area, use the pictures to guide you on what movements are best.
3.Clean the probe with a damp cloth after you have finished.
Advantage
Can fade spots, blackheads
Remove swelling and edema around the eyes
Remove wrinkles, scars
Slows down skin aging, slows down metabolism, and reduces nutrient absorption.
Small volume, convenient to carry
Simple repair and no special requirements for treatment environment
Specification
Voltage Input : AC 100-240V  50/60HZ; Voltage output:DC 15V 0.4 A  (plug-in unit)
Voltage Input : AC 100-240V  50/60HZ; Voltage output:DC 5.0V 1.0 A  (Rechargeable unit)
Li-ion battery volume: 1150mAh
Size:185*50*50mm
Weight: 150g (Plug-in unit)  165g(Rechargeable unit)
Red LED: 625±3nm
Green LED: 525±3nm
Blue LED: 465±3nm
Indentify Method of Ultrasonic
uncover the protective film from the probe, turn the device onto "Deep" or "Nutri-plus" mode, and then drop a small amount of water on the probe surface. the water will produce a fine steam, accompanied by fog.this shows that the ultrasonic is working well. the ultrasonic sound waves can not be heard by our ears, so this is the best way to check if it is working
Package Listing
1 x Main Machine
1 x Power Supply Cord
1 x English Use manual
1 x goggles
1 x cotton pad