Payment & Security
Your payment information is processed securely. We do not store credit card details nor have access to your credit card information.
Description
Model:LT-V303H
IPL Permanent Hair Removal E-light Skin Rejuvenation Beauty Machine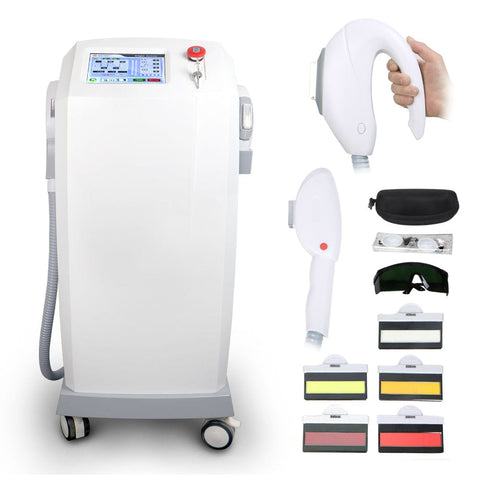 1.Technical Principles
Applying the technique of IPL and Bi-polar Radio Frequency, the equipment acts on the entire skin corium and connective tissue, stimulates the collagens of different depth to realign and grow, then gets treatment effect. Bio-polar RF release energy at the same time, with the selective absorption for the skin to light energy, various pathological tissues of corium and epidermis creates Photothermolysis effect. Since light energy is far below conventional IPL, the pigment tissue and vascular pathological tissue of the corium and epidermis would absorb more energy without injuring the epidermis, and then remove these pathological tissues better and get the effect.
2.Range of application
>Skin rejuvenation:improving large pores,rough skin,tiny wrinkles,and restoring skin elasticity.
>Freckle removing:removing freckles,chloasma,sunburn,age spots,acne marks and facial blemishes.
>Hair removal:permanent hair removal,hairs through whole body(hairs in growing period,including tiny hairs with light color)
>Telangiectasia treatment: redness,facial flush
3.Technical Parameters
IPL Light Energy : 1-50J/ cm2
Spot Size: 8×40mm2
Pulse number:1-5
Adjustable pulse width:2-99ms
Power:2000W
Filter:430mm/480mm/530mm/560mm/640mm
Diapla Screen: 8 inch Color Touch Screen
Input Voltage: 110V+-10% 50Hz-60Hz;220V+-10% 50Hz-60Hz
Cooling System: Water cooling + semi-conductor cooling + air cooling
Dimension :120cm×65cm×55cm
Net Weight: 50KGS
4.Package list
1X Main Engine
1x E-light Handle
1x Hair removal handle
1x Power line
2x Keys
1x Blinder(used by customers)
1x Protective glasses(used by customers)
1x water-injected Funnel
1xProtective tube
1x Rack
Manual will be sent to your