Payment & Security
Your payment information is processed securely. We do not store credit card details nor have access to your credit card information.
Description
Model:MS-97B1
40k Vacuum 8 In1 3Mhz Ultrasonic Cavitation RF Cold Hammer BIO Slimming Machine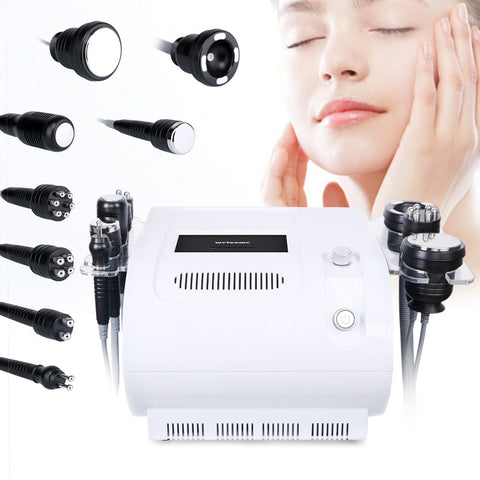 Overview
myChway 8 in 1 cavitation RF machine is a multi-functional professional beauty machine, effectively works on fat reduction cellulite removal and skin firming wrinkle reduction through unoisetioin cavitation 2.0 and smart 3D radio frequency technology. It is safe and non-invasive during the treatment.
Advantage Of  8 In 1 Cavitation RF Machine
- With advanced unoisetion cavitation 2.0 technology, quiet and effective treatment procedure.
- With smart 3D radio frequency technology, transmit energy to the skin dermis precisely.
- Bio microcurrent and ultrasonic facial provide more choice for face treatment.
- Color touch display, simple and flexible operation experience.
- Portable 8 in 1 cavitation rf, easy to use, ideal for beauty salon and aesthetics clinic.
- Can be used to the much body area, like belly, waist, arm, butt, thigh, legs.
What Does 8 In 1 Cavitation RF Machine Do?
- Dissolve fat cells, re-shape your body, and anti-cellulite.
- Promote metabolism, and accelerate blood circulation.
- Tighten the skin, reduce wrinkle, fine lines.
- Brighten, tone, smooth and rejuvenate the skin.
- Bio microcurrent improves muscle tone, reduce puffiness, and anti-aging.
- Cold hammer shrink pore, calm down the skin.
- Hot hammer opens the facial pore, clean the face.
- Ultrasonic facial cleansing and nutrition absorption importing.
Does 8 In 1 Cavitation RF Work for Cellulite?
8 In 1 Cavitation RF provides a safe and non-invasive treatment that transit ultrasonic waves and radio frequency into the deep fat layer, it helps reduce stubborn fat and improve the appearance of cellulite, it is one of the advanced ways to remove cellulite
Package List
1 x Host
1 x 40K Unoisetion Cavitation 2.0 Handle
1 x Sextupolar 3D SMART RF Handle
1 x Quadrupole 3D SMART RF Handle
1 x Bipolar 3D SMART RF Handle
1 x Vacuum&Bipolar RF Handle
1 x Bio/ Microcurrent Handle
1 x Ultrasound Handle for Face
1 x Cold&Hot Handle
1 x Holder for handles
1 x Power line