Payment & Security
Your payment information is processed securely. We do not store credit card details nor have access to your credit card information.
Description
Model: HR-FX002

Professional Q Switched Nd Yag Laser Tattoo Eyebrow Removal Beauty Machine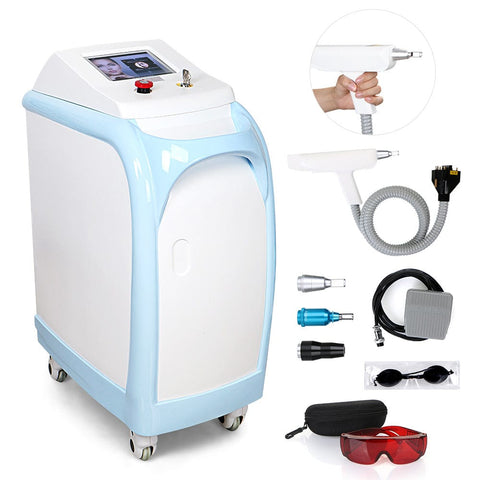 Q Switched Nd Yag Laser for Tattoo Romoval
Q Switched Nd Yag Laser for Eyebrow Romoval


Operation Theory
Adopting the Q-Switch ND YAG model, the equipment uses YAG to emit high energy instantaneously which smashing the pigment of pathological tissues, namely the YAG leading explosive effect: High energy emits instantaneously, making particular wavelength penetrating the epidermis and getting into pathological pigment tissues in only 6 gms. Then pigments expand in top speed and explode. The superficial epidermis would be bounded our of the body; another part of the pigments would split into granules which would be engulfed by macrophages, then exclude by the lymphatic system finally. The pigment becomes shallow gradually finally disappear while the surrounding normal skin tissues keep sound as they do not absorb a particular wavelength.
Operation Range
1.Pigment skin pathological changes, pigmentation caused by color pigment mixture, corium spot, freckle, mole, birthmark, nevus of Ota, etc.
2. Specialized in removing red capillary, coffee, brown and other colorized tattoos.
3. Effectively remove all kinds of embroider eyebrow, soak lip, eye line, and lip line.
Packing List
1 x Main Unit
1 x Hand-piece
2 x Tips
1 x Black doll tip
1 x Water funnel
1 x Foot touch
1 x Protective goggle
2 x Goggles (1 for the operator, 1 for a customer)
1 x Power line (we stock 110V-240V power version and US.UK.UA.EU plugs for the country all of the worlds)