Payment & Security
Your payment information is processed securely. We do not store credit card details nor have access to your credit card information.
Description
Model:MS-13D1
3IN1 Radio Frequency Photon Vacuum RF Therapy Slimming Machine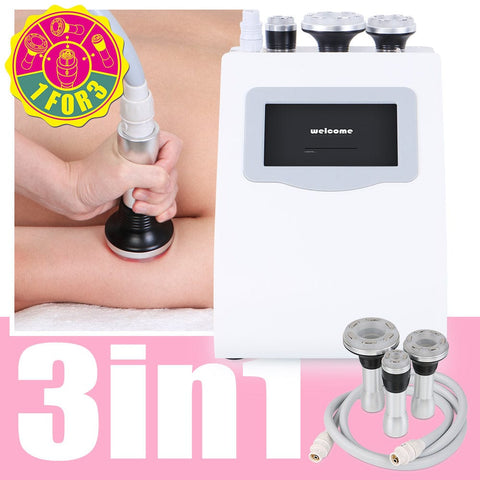 Overview of 3IN1 Vacuum RF Slimming Machine
Our 3IN1 RF vacuum slimming machine adopts the most advanced high-speed turbine negative pressure technology, and innovative three-dimensional conversion technology, combining with a microcomputer chip controlled patent roller axis, and has an anti-geocentric attract effect on the skin. On the other hand, vacuum RF fat-explosion can promote tissue metabolism, repel the cellulite.
Advantages Of 3IN1 Vacuum RF Slimming Machine
- Combine functions, save time to do treatment, vacuum RF with a photon, comfortable for loss fat skincare.
- Painless, upgraded design for target treatment area, rf, sucking, and release function would not hurt the skin.
- Suitable for all body areas, the machine comes with 3 different sizes of handles, can work for all body areas.
- Color touch screen, easy operation, beautiful design.
Benefits Of 3IN1 Vacuum RF Slimming Machine
- Circumference and cellulite reduction.
- Body contouring and slimming.
- Belly fat removal, weight loss, body sculpting.
- Skin rejuvenation, skin tightening, wrinkle removal, facelift.
What Is Vacuum RF Therapy?
It is used to treat hard-to-shift, dimpled fat on the area of the body, like thighs, knees, buttocks, stomach, and the tops of arms. Helping in cellulite removal, reduces localized fat, and reshapes the body.
Application Area
Vacuum sextupolar RF L handle: belly/leg cellulite removal, shaping double s waist, dredging lymph of back-- relax back muscle, massage shoulder, tighten bottom skin.shap bottom.
Vacuum sextupolar RF M handle: whole arm cellulite removal, neck muscle relax for improving cerebral blood circulation. face tighten.
Vacuum quadrupole RF S handle: face/ eye around/forehead skin Tighten, V face shaping.
Package List
1 x Main machine
1 x Vacuum&Sextupolar RF L Handle with Photon
1 x Vacuum&Sextupolar RF M Handle with Photon
1 x Vacuum&Quadrupole RF S Handle with Photon
1 x Holder
1 x Power Line