Payment & Security
Your payment information is processed securely. We do not store credit card details nor have access to your credit card information.
Description
Model: HR-AS60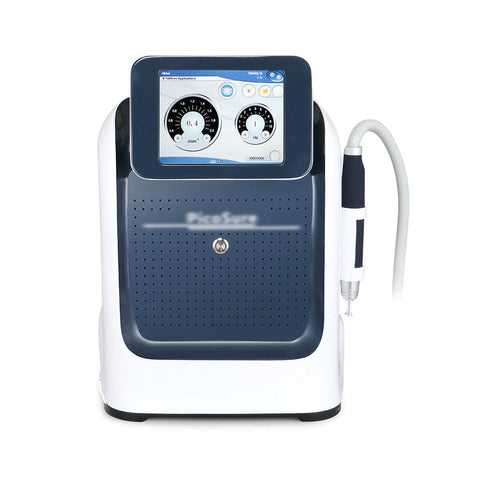 1064nm-Tattoo Removal
755nm-freckles/age spots/ dry spots/dermis spots
532nm-tan tattoos/tattoo eyebrows/lip lines/eyeliner
Skin rejuvenation, shrink pores
Functional principle
Using the laser's high-energy instantaneous emission, the irradiated pigment particles absorb energy instantly and break up. Some of them become tiny particles and are excreted. Some of them are swallowed by human macrophages and excreted through the lymphatic system to remove pigment. Because the normal tissue absorbs less laser light at a specific wavelength of the instrument and does not harm normal tissue, it preserves the integrity of the cell frame and never forms a scar. This is a treatment safety that cannot be compared in any other place. To the greatest extent, it guarantees that customers will not suffer from post-treatment complications.
Product Advantages
1、with high homogeneity of light spots, uniform energy distribution, consistency of treatment effect, and more secure.
2、For all exogenous and endogenous pigments, the effect is more significant
3、Short pulse width, with a dedicated laser bar in the industrial field, higher peak power, crushing pigment more thoroughly.
honeycomb spot, reduce pain, skin damage is more slight.
4、Intelligent water temperature control system: Avoid water temperature is too high, damage the handle.
5、The unique shape design and color match make the product more beautiful and fashionable.
Technical Parameters
Laser Type: ND: YAG Solid Laser
Laser Wavelength:1064nm、532nm、755nm、1320nm
Working frequency:1--5Hz (Adjustable)
Pulse Width:6ns
Screen:10.4-inch true color touch screen
Shell material: ABS plastic + metal
Input Power: 1200W
Language: English
Supply voltage:AC220V;AC110V(Customized)
Laser probe introduction
1064 laser tip: 1-10 adjustable spot, effectively eliminate dark tattoos, tattoo eyebrows, lips, eyeliner and traumatic pigmentation and freckles.
532 laser tip: 1-10 adjustable spot, suitable for the treatment of red or tan tattoos, tattoo eyebrows, lip lines, eyeliner. And can effectively fade the red or brown birthmark and various types of shallow spots. Focusable.
755 Tip: The sunburn, freckles, chloasma, age spots, dry spots, dermis spots and other stubborn stains. Red and black and so on.
1320 tip:Skin rejuvenation, shrink pores