Payment & Security
Your payment information is processed securely. We do not store credit card details nor have access to your credit card information.
Description
Model: MS-7602MAXSB
8 IN 1 Ultrasonic Cavitation Vacuum RF Microcurrent Body Slimming Laser Machine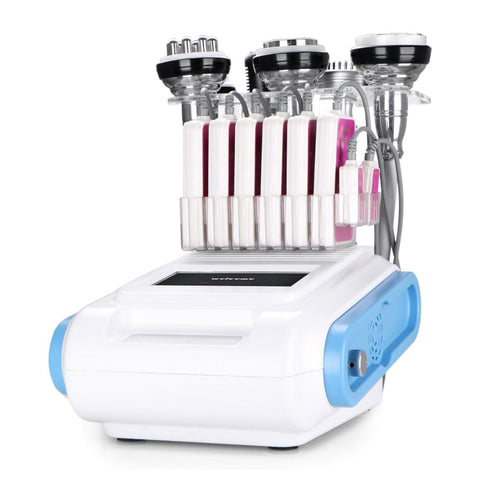 Overview
The 8IN1 cavitation 40k RF machine with lipo laser pads, fat removal cellulite reduction, weight loss, microcurrent bio face lifting, and hot cold therapy hammer could open and close the pores for the face skin.v
What is the 8IN1 cavitation 40k RF machine?
The 8IN1 cavitation 40k RF machine, use 40k hz wave, strong force explosion fat, achieve the effect of weight loss and body shaping. The multipole RF handle also could tighten the losse skin, promote tissue metabolism, repel the cellulite, while losing weight, it can also tighten the skin and brighten the complexion. The rf handle can also be used to repair facial skin, lift and tighten, and remove wrinkles. The 8IN1 cavitation 40k RF machine is for reshape the body and face again.
Advantage of 8IN1 cavitation 40k RF machine 
- Breaks down and eliminates fat cells
- Dissolves fat through lymphatic drainage
- The whole-body contouring and tightening
- Cause build-up of collagen stimulates further skin contraction
- Short treatment times, but permanent effects after treatment
- Attacks fat cells, without damaging organs or other tissues.
Features of 8IN1 cavitation 40k RF machine 
- Painless treatment focus RF energy at the correct position, compared to other radio frequency technology. It uses low energy and high frequency,safe and effective.
- Aim at the skin surface and deep location, using a complex method to control the different currents and energy, direct access to the different skin layer. Does not cause the phenomenon of uneven skin.
- Selectively targeting fatty tissue, to avoid heating other fat, to achieve the fastest treatment effect.
- The entire process is completed without the need of surgery and anesthesia.
- With the most useful 40KHZ ultrasonic cavitation system.
- Without side effects and the risk of gaining the weight back, the results are rather obvious. Does not affect the normal work and life.
Techinical Parameters
40K Unoisetion Cavitation 2.0 Handle:
Frequency:40KHz
Power:15W
Vacuum&Sextupolar 3D SMART RF Handle with Photon for body
Freqeuncy:1MHz
Power:50W
Vacuum: <-80kPa
Pressure: >250kPa
Air flow: >10L/minute
Noise level: <70dB (30cm away)
Octupole 3D SMART RF with Photon for body
Frequency:1MHz
Power:30W
Quadrupole 3D SMART RF Handle with Photon for face
Frequency:1MHz
Power:30W
Bipolar 3D SMART RF Handle with Photon for the eye area
Frequency:1MHz
Power:10W
Cold probe for body and face
Temperature of cold probe:0~5 degree centigrade
Maximum Temperature of hot probe: 43 degree
Power supply Input:100V-240V
Power :<=190W
Display: Touch screen
Net Weight: 7.9 kg
Gross Weight : 9.3 kg
Dimensions: 460 x 430 x 270 (mm)
Package Including
40KHz Unoisetion Cavitation Head x 1
Vacuum Sextupolar RF Head x1
Bipolar Face RF Handle x 1
Quadrupole RF Head for Face and Body x 1
Octupole RF Handle x1
Microcurrent+Photon Handle x 1
Cold Hot probe x1
Power cord x 1
Big LED Paddles x 6
Small LED Paddles x 2