Payment & Security
Your payment information is processed securely. We do not store credit card details nor have access to your credit card information.
Description
Model:NM-SN1S-US
 Facial Ultrasonic High-Frequency Vibration Acne And Blackheads Removal Cleanser Device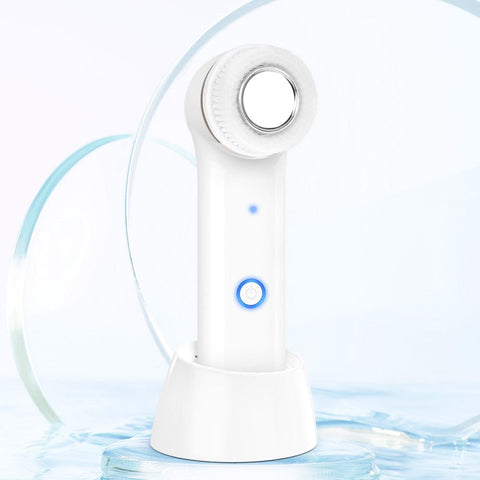 Advantages:
- Facial cleanser is small, easy to carry and operate.
- It is multifunctional to double cleanse skin and infuse nutrition to the skin.
- It is easy to learn and operate with immediate effect, no side-effects.
-The hairbrush is made of qualified materials and soft, thus having no hurt
to skin and being eco-friendly.
- Three modes can be switched freely according to your skin or feeling.
- With top technology, solving 4 big facial problems, including cleaning&
moisturizing, brightening, removing blackheads and reducing fine lines.
- It is safer and more convenient with wireless charger.
- Ultrasonic can infuse nutrition to the skin, at the same time, it will export
the grease from pores, making moisture circulation in the pores, thus having
a double effects to the skin.
- It has special memorizing function with faster and more convenient
operation.
Overview:
The design of this beauty machine conforms to ergonomics that is comfortable, effort-saving and have clear effects. Facial cleanser is believed to replace the traditional washing with hands and its cleaning effect is 8 times cleaner than washing with hands. Moreover,it is convenient and easy to operate. It solves skin issues for beauty-lovers. This equipment is save and requires no injection, no medication, no operation, thus having no side-effects. It is used externally during the whole process and has an immediate effect. Based on the principle of ultrasonic vibration, facial cleanser uses hairbrush to
deeply clean pores, remove clogs and make the metabolism of skin pores normal, thus reducing acne, blackheads, coarse pores and such skin problems.
How To Use?
Step 1: First charging should be 10 hours or above.
Step 2: Insert the brush into the concave slot.
Step 3: Wet skin and the brush with water;
Step 4: Lather up the cleanser and apply on the skin or brush; Press for 2 seconds to turn it on.Default mode is cleansing mode. Click on/off button to switch energy level. Select the level that works for you and start cleansing from forehead (40sec), to nose and chin (40sec), and cheeks (each side for 20 sec). The device turns off automatically at 2 min. (Press the on/off button to turn off the device until it stops vibration);
Step 5: 3 Levels of Cleaning
Level 1 (blue) is applicable to sensitive skin
Level 2 (purple) can be applied to cleanse pores and acne
Level 3 (red) brings evident results of removing makeup residues
Step 6: Press for 2 seconds to switch between cleansing and ultrasonic nutrition lead in and out and there's 3 levels of energy intensity
Step 7: The device is able to memorize the last setting
Step 8: Red light stays on during charging and turns blue when it's fully charged
Step 9: Charging is needed when red light flashes
Step 10: Clean the device after treatment for next use
Step 11: Replace each brush every 3 months for better skin cleansing results