Payment & Security
Your payment information is processed securely. We do not store credit card details nor have access to your credit card information.
Description
Model: MS-98B3
8 in 1 RF Cavitation Massager Face & Body Shaping Machine Fat Cellulite Removal Weight Loss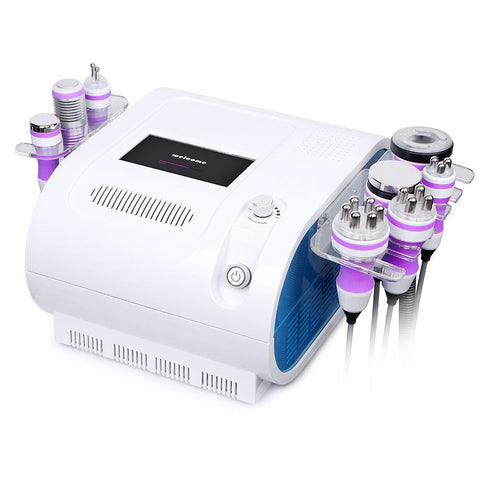 What Is A 8 in 1 Cavitation RF System
8 in 1 cavitation RF body slimming and facial care system with excellent radio frequency cavitation customer treatment reviews is a fat-metabolizing and detoxifying procedure and skincare management treatment.
With the multifunction combination with unoisetion cavitation 2.0 cellulite treatment, vacuum bipolar RF, and sextupole RF for body shape,3-polar RF and quadrupole RF radiofrequency for face skin tightening, and face ultrasonic for skin deep cleaning and whiting, it is one of the latest body contouring options to hit the market for salon/spa, even personal use.
What Can 8 in1 Cavitation RF System Do?
8 in1 Cavitation RF System comes with significant benefits for the user
- More precisely removing targeted unwanted stubborn fat
- Getting rid of stubborn fibrous fat including visceral fat and subcutaneous fat
- Increasing skin contraction and tighten loose skin after cellulite treatment
- Preserving surrounding nerves and organ, safe and fast result
- Improve the skin elasticity and restore skin
How Often Should I Use Cavitation RF Treatment
Part I: Body Contouring
Dermatologists recommend using this 8 in1 cavitation RF machine for body contouring at least four times in the first two weeks.
Each session for each treatment area should last 30 to 45 minutes.
Every 3 to 4 days must be spaced for each treatment.
After the 1-2 weeks, once a week treatment can be done
Part II: Facial Lifting
Dermatologists recommend using this 8 in1 cavitation RF machine for Facial lifting at least 1-2 times in the first two weeks.
Each session for each treatment area should last 30 to 60 minutes.
Every week must be spaced for each treatment.
After the 4 weeks, once treatment per two weeks can be done
Specification
Power supply Input:100V-240V
Power:190W
40K Unoisetion Cavitation 2.0 Handle
Frequency:40KHz
Power:20W
3-Polar RF Handle for eye around with Photon
Frequency:1MHz
Power:30W
Quadrupole RF Handle for the face with Photon
Frequency:1MHz
Power:50W
Sextupolar RF Handle for the body with Photon
Frequency:1MHz
Power:50W
Vacuum&Bipolar RF Handle for body with Photon
Freqeuncy:1MHz
Power:10W
Vacuum: <-80kPa
Pressure: >250kPa
Air flow: >10L/minute
Noise level: <70dB (30cm away)
Face ultrasound handle
Frequency: 1KHz
Power:20W
Hot&cold handle
Temperature:0~5 degree centigrade
Bio facelift probe with Photon
Frequency:1MHz
Power:30W
Package Included
1 x Main Machine
1 x40K Unoisetion Cavitation 2.0 Handle with Photon
1 x 3-Polar RF Handle for eye around with Photon
1 quadrupole RF Handle for the face with Photon
1 xSextupolar RF Handle for body with Photon
1 xVacuum&Bipolar RF Handle for body with Photon
1 face ultrasound handle
1 xhot&cold handle
1 xBio facelift probe with Photon
2 x Holder
1x Power Cord