Payment & Security
Your payment information is processed securely. We do not store credit card details nor have access to your credit card information.
Description
Model: WL-GT010
Radio Frequency Cavitation Multipolar Sextupole 3 Polar Cellulite Machine Vacuum Cavitation System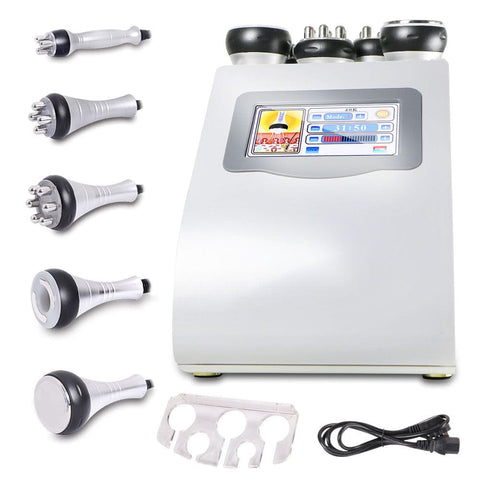 Overview
The comprehensive multifunctional 5 in 1 weight loss beauty machine, with the 40k ultrasound cavitation, vacuum RF, 3 pole RF handle, multipolar RF handle, get better result of body slimming and facial skin rejuvenation.
What is the 5 in1 ultrasonic cavitation RF machine?
The 5 in1 ultrasonic cavitation RF machine combine the different function, the strong force 40k explosion fat and fat removal, the vacuum RF  lymphatic drainage, firm skin, the three polar RF for facial wrinkle elimination, tightening and lifting, suitable for face and body skin treatment.
The benefit of 5 in1 ultrasonic cavitation RF machine
- Tighten arms, legs, thighs, hips, waist, back, abdominal muscles and reshape the body
- Improve fatty tissues of different severity as in the treatment of cellulite
- It has the effect of soothing, reducing pressure and relieving fatigue.
- Tighten, lift and firm the skin to create a V-shaped face
- Promote metabolism
- Stimulate the regeneration of collagen, improve facial and body skin

The feature of 5 in1 ultrasonic cavitation RF machine
- Multifuntion 5 in1 five handles for body and facial
- The entire process is completed without the need of surgery and anesthesia.
- No risk of gaining the weight back, no side effect.
- The effect is quick, most customers can see obvious results after a course of treatment

Is 5 in1 ultrasonic cavitation RF machine treatment safe?
Regarding the safety of ultrasonic cavitation therapy, it is completely non-invasive and safe, and there is no pain during the operation. In this therapy, it uses a specific ultrasonic energy level, so only the fat cells are damaged. No damage to other organs. Only some slight redness and discomfort are tolerable
Package Including:
Multipolar RF Head for Body x 1
40KHz Cavitation Head x 1
Vacuum Biploar RF Head x1
Three polar RF Head for Faceand eyes' around x 1
Quadrupole RF Head for Face and Body
Power cord x 1