Payment & Security
Your payment information is processed securely. We do not store credit card details nor have access to your credit card information.
Description
Model:
HR-M280
E Light IPL Hair Removal RF Skin Rejuvenation Machine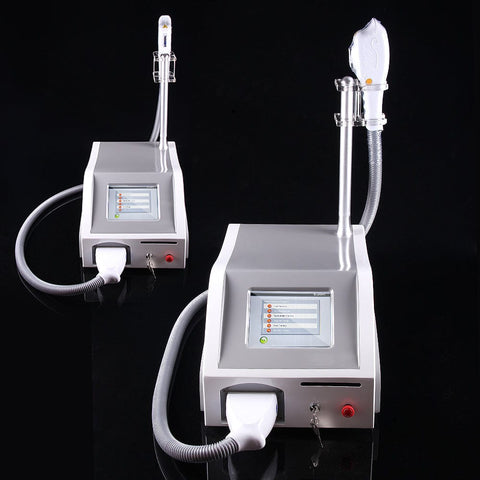 Description
E light (IPL+RF)
E-light applies three core technology, IPL, RF, and epidermis cooling. It combines the advantage of IPL and RF, in one hand, the skin absorbs IPL energy selectively, and the skin also absorbs RF energy, on the other hand, the RF-surface-touch cooling technology removing the discomfort and complications by high heat of IPL. Therefore, the effect and safety of E-light makes a breakthrough.
1. Principle
Applying the technique of IPL and Bi-polar Radio Frequency, the equipment acts on the entire skin corium and connective tissue, stimulates the collagens of different depth to realign and grow, then gets treatment effect. Bio-polar RF release energy at the same time, with the selective absorption for the skin to light energy, various pathological tissues of corium and epidermis creates Photothermolysis effect. Since light energy is far below conventional IPL, the pigment tissue and vascular pathological tissue of the corium and epidermis would absorb more energy without injuring the epidermis, and then remove these pathological tissues better and get the effect.
2. Application:
1. Hair removal (including dark skin);
2. Skin rejuvenation
3. Acne treatment;
4. Removing freckle, age spots, sun spots, pigmentation troubles, etc;
5. Removing red face, red capillary, and bottle nose
Treatment Range
1.Tender Skin:the whole body beautiful white tender skin,slimming
2.Remove freckles,chloasma.senile plaque,etc.
3.Pigment removal:red blood silk,erythema,acne,rosacea,etc.
4.Hair Removal:armpit hair,hairline,beard,whiskers,lip hair,body hair,bikini hair or any other unwanted hair.
Technical Advantage
1.Special designed ISL device can ensure safe treatment.
2.530-1200nm wide spectrum technology,more accurate selective treatment technology.
3.The modular combination installation,improve the stability of the instrument
4.Intelligent detection system,and comprehensively improve the simple operation to understand.
5.8 inch truecolor touch screen,functionalization menu design easy operation
6.Intelligent refrigeration cycle system,ensure that treatment of comfort and safety,ensure the working stability
Technical Specifications
Energy range: 5-50 J/ CM2
Treatment Area:10*40 mm
Wavelength:530-1200 nm
Pulse Duration:1.0-9.9 ms
Pulse Number:1-5 adjustable
Power supply AC 220V 50HZ; AC110V 60HZ
OUTPUT POWER: 800 W
Dimension:460*360*530 mm
Net Weight: 30 kg
Humidity: < 80%