Payment & Security
Your payment information is processed securely. We do not store credit card details nor have access to your credit card information.
Description
Model: HR-K600
Professional E-light IPL+RF Hair Removal Skin Care Beauty Machine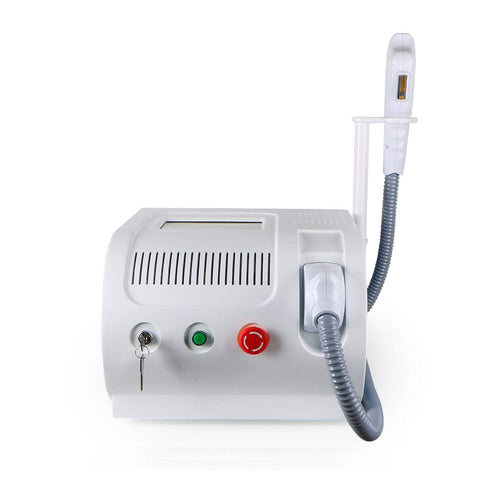 Functions:
1. Beauty Machine E-light (IPL+RF)
2. Hair Removal IPL,E-light,RF
3. Hair Removal
4. Skin Rejuvenation
What Is Hair Removal Wrinkle Reduction Machine?
E-light uses three core technologies, such as IPL, RF, and epidermis cooling. It combines the functions of IPL and RF in one handle. Your skin will absorb IPL energy selectively, and absorb the energy of RF, on the other hand, the RF-surface-touch cooling technology can remove the discomfort and complications from the high heat of IPL. Finally, the effect and safety of E-light makes a breakthrough.
Operation Range 
1. Tender Skin: the whole body's beautiful white tender skin,
2. Remove freckles, chloasma. senile plaque, etc.
3. Pigment removal: red blood silk, erythema,acne, rosacea, etc.
4. Hair Removal: armpit hair, hairline, beard, whiskers, lip hair, body hair, bikini hair, or any other unwanted hair.
System Characteristics 
1. The head of E-light combines with three parts: bipolar radio frequency+low-energy pulse light energy+epidermal cooling.
2. Operation result is obviously enhanced in the clinic, and you will receive a great improvement in various skin problems like wrinkles and telangiectasia.
3. Multifunctional E-light beauty machine is the best choice for patients: comfortable operation, faster results, effective, obvious results and minimal side effects, etc.
4. Using the wider population, it can be used for the operation of skin Type IV and skin type V.
5. It has easy operation, just adjust the energy of IPL and RF individually.
6. Pre-cooling to the epidermis can result in temperature difference between the epidermis and dermis, the energy launched by RF acts on the pre-warmed aimed-tissue(such as veins, hair follicles, melanin, etc.), in order to achieve the best RF penetration effect.
Technical Specifications 
Energy Range:5-50J/cm2
Operation Area:10*40mm
Pulse Duration:1.0-9.9ms
Pulse Number:1-5 adjustable
Power Supply:AC220V50Hz;AC110V 50Hz
Output power:800w
Dimension:460*360*530mm
Net Weight:30KG
RF Radio Frequency :3M
Humidity:<80%