Payment & Security
Your payment information is processed securely. We do not store credit card details nor have access to your credit card information.
Description
Model No. : DWJPCO40D1
CO2 Laser Acne Wrinkle Removal Beauty Machine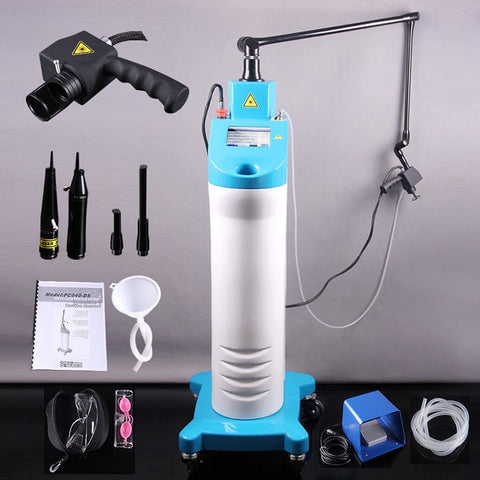 How it works:
With fractional resurfacing the beam is broken up or fractionated into many small micro beams which are separated so that when they strike the skin surface small areas of the skin between the beams are not hit by the and left intact. These small areas of untreated skin promote a much more rapid recovery and healing with less risk of complications. The small areas treated by the fractional micro beams, called micro treatment zones, cause sufficient injury to promote new collagen production and resultant facial skin rejuvenation.
Features:
Acne and Acne Scar Removal
Co2 Skin Renewing and Resurfacing
Smooth Burnt Scars and Surgery Scars, etc
Improve texture, tone and pore size
Erase unwanted brown spots
Wrinkle Removal
Sun Damage Recovery
Remove intractable chloasmas and Acne scars, nevi, tattoo, dark spots, warts, removal
Wrinkles reduction or removal (face, forehead, around lips, neck)
Hemangioma, lipoma cutting
Lleukoplakia vulvae treatment
Cervical erosion treatment
Circumcision treatment
Condyloma acuminatum treatment
Aesthetics Surgery: skin rejuvenation, eyelift, facelift, etc
Benefits:
1. User-friendly - Treatment results are noticeable and predictable.
2. Totally Adjustment Flexibility - The Matrix CO2 System treats a wide variety of dermatologic indications. The Ultra-pulse Fractional Scanner provides multiple treatment parameter options.
3. Fractional Scanner Pattern Size & Shape - The scanner has the ability to change pattern shapes and sizes on the fly for the most versatile applications of the on different parts of the body, skin types, and operator preferences. Square, rectangle, round, triangle, oval, 6 diamond shape, line or customised graphics. Scan pattern size: 0.1x 0.1 mm - 20 x 20mm