Payment & Security
Your payment information is processed securely. We do not store credit card details nor have access to your credit card information.
Description
Model: DWJPC015-A

Medical CE Beauty Equipment Fractional CO2 Laser Machine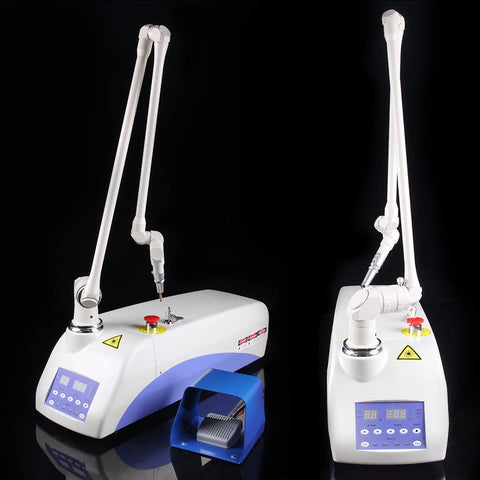 PRINCIPLE
The spectral absorption of water provides the CO2 Surgical with the ability to coagulate, vaporize, or cut, tissue depending on the power density and the energy level applied by the surgeon. When the Co2 beam is defocused, the Co2 light vaporizes the soft tissue, and when the light is focused the Light can cut like scalpel.
The beam is a highly concentrated and powerful beam of light that interacts with tissue in some extraordinary ways. Surgeons use CO2 because of their outstanding precision. The beam is so accurate that an area less than one millimeter in diameter can be treated, while scarcely affecting surrounding tissue. Moreover, CO2 surgery is implemented in microsurgery and in rigid endoscopy, enabling surgical precision to a fraction of a millimeter
FEATURES
Compact and easy to operate
Sealed-off CO2 technology
CW, repeat pulse, and super pulse operation modes
7-joint spring-balanced articulated arm
Pilot beam of 5mW Light
Safety protection with alarming automatically
SPECIFICATION
Machinetype DWJPC015-A CO2 (sealed off)
Wavelengths 10.6microns
Mode Structure TEM00
Power to tissue 15W
Co2 Light operation modes Repeat. CW. Super.
Super pulse peak power 100W
Aiming beam 3mW Light
Beam delivery system 7-joint spring-balanced articulated arm
Working radius 110cm
Cooling system Water closed-cycle
Control system Microprocessor control
Warranty 1year
Electrical 230VAC/50Hz or 120VAC/60Hz
Package dimensions (cm) 102x37x47cm
Gross weight by carton (kg) 28kg
APPLICATIONS
General Surgery: haemangioma, adipoma, steatoma, rectal cancer
Oral Surgery: epulis, buccal haemangioma, mucous cyst, lichen planum
Otolaryngology: auricle vegetation, nose tumour and tumor of paranasal sinus, benign tumour of oropharynx, gular haemangioma, vocal polyp, laryngo-carcinoma, chronic pharyngitis, chronic rhinitis, chronic laryngitis
Urology: meatus urinary condyloma, redundant prepuce, caruncle of urethra, polyp of penis
Gynecology: myoma of uterus, cervical erosion, cervical polyp, vagina condyloma
Dermatology: wart, common wart, venereal wart, herpes labial, herpes zoster, nevus pigment, cutaneous malignant tumour
Cosmetology: dispel wringkle tache, stains of face nevus, vegetation and underarm odour