Payment & Security
Your payment information is processed securely. We do not store credit card details nor have access to your credit card information.
Description
Model: WL-VS19
2021 2  Parts Suit Home Spa Blanket Body Shape Slimming Fitness Weight Loss Blanket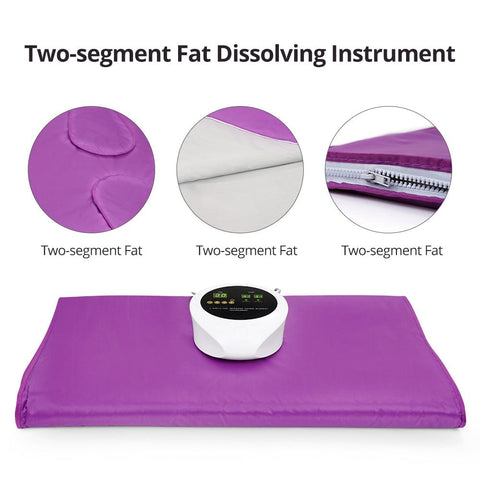 Principle
Far-infrared rays are the source of vitality. The energy of far-infrared rays is immediately absorbed by biological cells to form resonance resonance,
which can increase intra-molecular vibration and activate tissue cells, increasing the temperature of cells and tissues and accelerating blood circulation. ,
Local circulation is improved, metabolism is enhanced, and tissue nutrition metabolism is correspondingly improved. high.
Function
1 To imporve the blood circulation and enhance cells nourishments,make skin more fresh and active
2 To use the infrared rays shining the body,make the power under skin transport into the heating power,the temperature of skin cells will increase,expend the blood vessel,burning the free and extra fatness inside skins,final get the reducing fatless and slimming body effect.
Notice
1.When the instrument is in the working state, if you need to adjust the temperature, you can press the corresponding temperature setting key to set it directly, without pausing or shutting down the instrument, so as not to affect the service life of the accessories.
2.When using, the heating parts inside the accessories should not be close to each other and stacked together. After use, please remove the accessories and place the upper and lower blankets separately. After the residual heat is dissipated, they can be cleaned, disinfected, dried and folded and placed in Dry and ventilated place.
Technical parameter
Color:purple
Material:PVC
Power:650W
Frequency:50HZ-60Hz
Voltage:110v ,220v ,230v ,240 v
Packaging Including
1 set mainframe
1 pc power wire
1 set blanket
2 pcs fuse (5A)
1 Manual
Operation
1 Roll out the sauna blanket and connect two wires of it with the output of the mainframe
2 Let the client lie on the blanket and then start the operation
3 Put through the electrical source and open the switch
4 Press the buton 7 and button 8 to set the working time of the machine
5 Press SETUP button ,when the nixietube 2 gliterring,please oress tge button 7 and button 8 to set the output temerature of OUT 1.after setting the machine it can conserve the numerical value automatically
6 Press SETUP button again,when the nixietube 3 gliterring,please press the button 7 and button 8 to set the output temperature of OUT 2.after setting the machine it can conserve the numerical value automatically
7 Press SETUP button one more time,when the nixietube gliterring,the machine will return to the working time setup station
8 After setting the working time and output temperature,please press "S/P"button to start the machine,and then there will be a little glitterring at the lower right corner of the nixietube 1

9 Aftering the threating,shut off the machine and cut off the electrical source
10 Cleaning the blanket and keep it on the dry place