Payment & Security
Your payment information is processed securely. We do not store credit card details nor have access to your credit card information.
Description
Model: MS-54D2
5-1 Ultrasound Cavitation 2.0 Radio Frequency Vacuum Cellulites Slim Cavitation Machine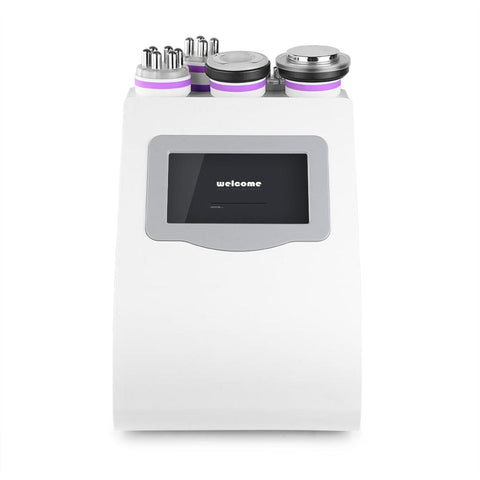 Remove the Stubborn Pockets of Fat
Tighten and Smooth the Sagging Skin
Enhance Skin Texture, Anti-Wrinkle
Reduce the Eye Baggy and Saggy Skin
Overview
Unoisetion cavitation 2.0 photon vacuum RF slimming treatment help you end the struggled with stubborn pockets of fat that wont seem to shift EVEN with exercise, say goodbye to baggy and saggy skin!
How Can Unoisetion Cavitation 2.0 Photon Machine Do?
Every day, people are looking for cheaper, simpler slimming solutions to reduce the dimple of cellulite and tighten the skin faster and more effectively!
Now this unoisetion cavitation 2.0 photon machine can meet your requirement.
The ultrasonic wave of the cavitation 2.0 to break down the fat deposits, and subsequently eliminated by the radio frequency and vacuum by promoting blood flow under the outer layer of skin.
The advantage of this unoisetion cavitation 2.0 photon machinee is that it can be used as an normal tool for the face and body, as well as to target fat, wrinkles and improve the skin texture through continuous use.
Features
- Using the world class ultrasonic cavitation 2.0 technology
- No side effects, low investment cost, fast return
- Treatment is painless, comfortable and relaxing
Specification
Power supply Input:100V-240V
Power :190W
Uoisetion 40K Cavitation Handle
Frequency:40KHz
Power:20W
Sextupolar 3D RF Handle for Body
Freqeuncy:1MHz
Power:50W
Quadrupole 3D RF Handle for Face and Body
Freqeuncy:1MHz
Power:50W
Three pole 3D RF Handle for face
Freqeuncy:1MHz
Power:30W
Vacuum Biploar 3D RF Handle
Freqeuncy:1MHz
Power:10W
Vacuum: <-80kPa
Pressure: >250kPa
Air flow: >10L/minute
Noise level: <70dB (30cm away)
Dimensions: 26*24*33 CM
Net Weight: 5.5 kg
Gross Weight : 6.2 kg
Input Power: AC 110V/220V 50/60Hz
Display: Touch Screen
Package Listing
1 x 40KHz Unoisetion Cavitation Handle
1 x Vacuum Biploar RF Handle
1 x Three pole RF Handle for Face and Eyes' Around
1 x Quadrupole RF Handle for Face and Body
1 x Multipolar RF Handle for Body
1 x Power cord Power Supply Cord( Both 110v and 220v voltage (frequency: 50/60Hz) version are available. Also we stock the USA, UK, AU, EU plug to suit for the country all over the world.)