Payment & Security
Your payment information is processed securely. We do not store credit card details nor have access to your credit card information.
Description
Model: LY-54K2+LT-OL700
5 In 1 40K Ultrasonic Cavitation Vacuum RF Machine
Model: LY-54K2
Overview
With high performance on unwanted fat and cellulite, our 5 in 1 cavitation machine is trusted by beauty experts and popular with many professional spas and salons.
This 5 in 1 slimming machine has 5 multifunctional handles applied thigh, buttock, waist, etc. And it is without any invasive surgery.
Functions:
1. Remove thigh fat, and improve dark skin.
2. Lift buttock contour and elasticity.
3. Burn fat cells, and remove fat belly.
4. Tighten arms, and remove bat wings arms.
5. Lift facial contour, and remove wrinkles.
6. Lift eyes sagging & contour, remove the eye bag dark.
How does it work?
The 5 in 1 cavitation FR machine adopts the latest low-frequency wave of ultrasound cavitation technology. The ultrasound wave can break down the fat cells into particles and then metabolize them into a liquid. The fluid is then easily removed from the body through the lymphatic and urinary systems. The high-frequency RF also helps improve the elasticity of the skin in order to help body shaping.
Benefits of the RF Cavitation
Face: Lift facial contour, remove wrinkles, and improve skin elasticity.
Eyes Around: Lift eyes sagging & contour/remove eye bag dark circles.
Neck: Remove neck wrinkles, lift & tighten neck shape and contour.
Arm: Tighten arms, remove bat wings arms, and promote metabolism.
Waist: Burn fat cells, remove fat belly, and turn to thin waists.
Buttock: Lift buttock contour and elasticity, creating a perfect buttock.
Thigh: Remove thigh fat, improve dark skin, and tighten thigh.
How Much Treatment Is Recommended?
We recommend at least 3-5 days must be allowed between treatments in the same area.
Many people asked me if only one part of the body can be treated each day. No, not only one part of the body can be treated to get rid of fat, you can treat your belly, waist, arm, and thigh at the same time.
How Long Is Each Treatment?
It will take 30 to 60 minutes for each part of the body treatment, But it is not the same treatment time, the treatment time depends on the treatment, the area to be covered, and the amount of work required for non-surgical inch loss and body contour treatment.
Specifications
Uoisetion 40K Cavitation Handle
Frequency:40KHz
Power:28W

Sextupolar 3D RF Handle for Body
Freqeuncy:1MHz
Power:65W

Quadrupole 3D RF Handle for Face and Body
Freqeuncy:1MHz
Power:58W

Three-pole 3D RF Handle for face
Freqeuncy:1MHz
Power:35W

Vacuum Biploar 3D RF Handle
Freqeuncy:1MHz
Power:70W
Vacuum: <-73 kPa
Airflow: >10L/minute
Noise level: <60dB (30cm away)

Product Size (when installed): 10.7 x 7.2 x 7.9 in. (27 x 18 x 20 cm)
Package Size: 13 x 12 x 10 in. (33 x 31 x 26 cm)
Net Weight: 4.3 kg
Gross Weight: 5 kg
Input Power: AC 110V/220V 50/60Hz
Display: Touch Screen
Red Light Therapy Belt for Lower Back Pain and Weight Loss
Model: LT-OL700
Pain Relief and Weight Loss - The red light therapy belt can be worn around your lower back, or midsection for targeted relief. It can also accelerate fat activity and achieve weight loss.
Safe and Affordable - You can wear this laser therapy belt while sitting down allowing the use of it while performing office work or sitting on a couch.
Advanced and Effective - The advanced belt design over the traditional mat is you can target 360 degrees around a specific area which maximizes the effectiveness of the far infrared heat and photons.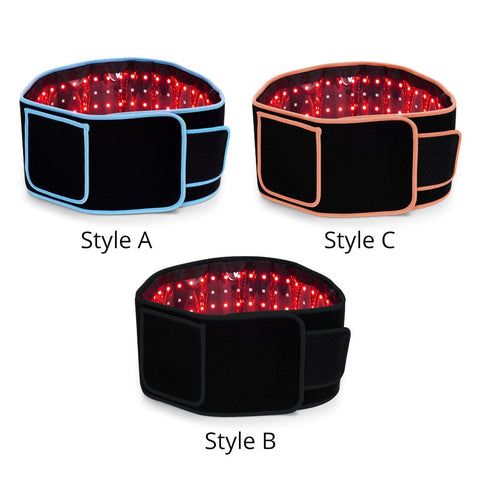 Product Details
Size: 121*20cm
Color: Black
Led number: 105pcs
Wavelength: 660nm/850nm
🧡1. If you want to learn more about the 5 In 1 40K Ultrasonic Cavitation Vacuum RF Machine and buy one only, you can click the title below and buy it directly:

🧡2. If you want to learn more about the  Red Light Therapy Belt  and buy one only, you can click the title below and buy it directly: