Payment & Security
Your payment information is processed securely. We do not store credit card details nor have access to your credit card information.
Description
Unoisetion+Quadrupole RF Vacuum+Bipolar+Quadrupole+Sextupole 3D RF Slimming Facial Care Beauty
Model: YH-5301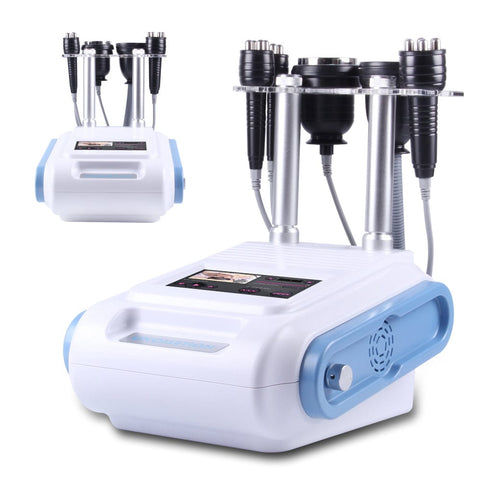 Overview
Professional 5 In 1 ultrasonic cavitation liposuction beauty machine help in fat reduction cellulite removal and skin tightening wrinkle removal through unoisetion cavitation treatment and radiofrequency treatment.
What Can You Expect From 5 In 1 Unoisetion Cavitation Liposuction?
- It helps in fat reduction body slimming through unoisetion cavitation.
- It helps face skin firming lifting wrinkle removal fine lines reduction.
- It helps cellulite removal skin tightening for tummy hip.
- It helps blood circulation, improves body metabolism.
- It helps the body massage and relax, improves lymph detox.
Advantages Of 5 In 1 Unoisetion Cavitation Liposuction
- Advanced unoisetion cavitation 2.0, provides a comfortable and safe procedure.
- FDA-approved cavitation fat loss machine, sculpt your beauty.
- Adjustable RF energy release rate, effective for cellulite treatment.
- Excellent user experience with color touch screen.
- Ideal for home, beauty salon spa, easy to use.
Is Unoisetion Cavitation RF Treatment Effective?
Unoisetion cavitation RF treatment can bring immediate and long-lasting results. Ultrasonic cavitation RF is a non-invasive and effective procedure for fat reduction and cellulite removal. 10-30 minutes each session recommended. Many clients will experience a slight fat loss after a single session. The result will be increasing after maintaining more sessions.
Technical Parameters
Uoisetion 40K Cavitation Head
Frequency:40KHz
Power:15W
Sextupolar 3D RF for Body
Freqeuncy:1MHz
Power:50W
Quadrupole RF with Vacuum
Freqeuncy:1MHz
Power:50W
Vacuum: <-80kPa
Pressure: >250kPa
Airflow: >10L/minute
Noise level: <70dB (30cm away)
Quadrupole 3D RF for face
Freqeuncy:1MHz
Power:30W
3D Bipolar RF
Freqeuncy:1MHz
Power:10W
Net Weight: 6.5 kg
Gross Weight: 7.5 kg
Dimensions: 450 x 430 x 260 (mm)
Power supply Input:100V-240V
Power:190W
Display: Touch screen
Package List
1 x Host
1 x Uoisetion 40K Cavitation Head
1 x Sextupolar 3D RF Head
1 x Bipolar 3D RF Head
1 x Quadrupolar 3D RF Head
1 x Quadrupole RF with Vacuum Head
1 x Holder
1 x Power Supply Cord ( Both 110v and 220v voltage (frequency: 50/60Hz) version are available. Also we stock the USA, UK, AU, EU plug to suit for the country all over the world.)