Payment & Security
Your payment information is processed securely. We do not store credit card details nor have access to your credit card information.
Description
Model: LY-54K2S+LT-OL700
Ultrasonic Cavitation  RF Vacuum Face & Body Slimming Machine Fat Loss  Spa Home Use
Model: LY-54K2S
Functions:
Remove cellulite, body contouring, fat reduction
Belly fat loss, non-invasive fat loss
Lift buttock contour and elasticity
Improve facial skin and remove wrinkles
Lift eyes sagging & contour, remove eye bag dark 
Weight loss
How Does It Work?
Through the collective strong sound wave head, a 40khz strong sound wave is emitted, which vibrates the fat cells at the fastest speed, produces a large number of vacuum airbags inside and outside the fat cells, strongly impacts the fat cells, generates an introverted shock wave and decomposes triglycerides into glycerol and free fatty acids. Then, the integrated glycerol and free fatty acids are expelled through the hepato-enteric circulation with a 1MHZ frequency radio frequency wave. Finally, a vacuum radio frequency and an energy electrode are used to locate and tighten the fat. In physics, this is called "cavitation". The micropores explode inside and outside the cells, which may lead to increased molecular movement and increased energy levels, which will eventually lead to the rupture of fat cells, thereby achieving the effect of fitness and weight loss.
Why Choose The 6IN1 Cavitation RF Vacuum Machine? 
- Body Shaping, fat dissolving, cellulite removal
- Tighten and strengthen skin elasticity, skin rejuvenation, and lifting
- Remove fine wrinkles and smooth shrink pores
- Lymphatic drainage, promoting metabolism and blood circulation
- Contour and repair post-pregnancy scar
What Problem Can Be Solved? 
- Firm the arms, legs, thighs, buttocks, waist, back, and abdominal muscles and reshape the body figure.
- Improve and treat the orange peel-like fatty tissues of different serious levels.
- With the effects of soothing, decompression, and relieving pain (such as joint pain, and sciatica), promoting the regular mechanical aerobic exercise of skin tissue, quickly relieving stress, and eliminating fatigue.
- Tighten, lift, and firm the skin, and shape the face.
- Circulates and activates cells to promote metabolism, thereby obtaining 100% collagen and elastic fibers, improving facial and body skin.
How Many Ultrasonic Cavitation Treatments Are Needed?
Each treatment lasts about 30 to 50 minutes. We recommend doing it every 72 hours to allow enough time to completely remove fat from the body.
Although you can have up to 12 sessions, most customers will do anything between 8 and 12 times before they can achieve the desired result.
Technical Specifications
Uoisetion 40K Cavitation Handle
Frequency:40KHz
Power:30W

Sextupolar 3D RF Handle for Body
Freqeuncy:1MHz
Power:65W

Quadrupole 3D RF Handle for Face and Body
Freqeuncy:1MHz
Power:60W

Three-pole 3D RF Handle for face
Freqeuncy:1MHz
Power:35W

Vacuum Biploar 3D RF Handle
Freqeuncy:1MHz
Power:70W
Vacuum: <-73 kPa
Air flow: >10L/minute
Noise level: <60dB (30cm away)

LED Pads
Power: 5 mW

Product Size (when installed): 10.2 x 15 x 8.6 in. (26 x 38 x 22 cm)
Package Size: 13 x 12 x 10 in. (33 x 31 x 26 cm)
Net Weight: 5.5 kg
Gross Weight: 6.2 kg
Input Power: AC 110V/220V 50/60Hz
Display: Touch Screen
Red Light Therapy Belt for Lower Back Pain and Weight Loss
Model: LT-OL700
Pain Relief and Weight Loss - The red light therapy belt can be worn around your lower back, or midsection for targeted relief. It can also accelerate fat activity and achieve weight loss.
Safe and Affordable - You can wear this laser therapy belt while sitting down allowing the use of it while performing office work or sitting on a couch.
Advanced and Effective - The advanced belt design over the traditional mat is you can target 360 degrees around a specific area which maximizes the effectiveness of the far infrared heat and photons.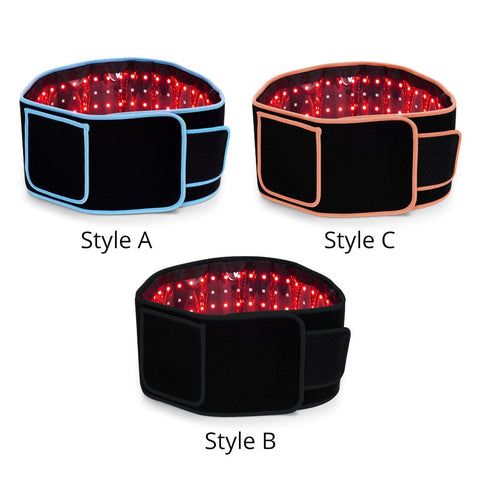 Product Details
Size: 121*20cm
Color: Black
Led number: 105pcs
Wavelength: 660nm/850nm
🧡1. If you want to learn more about the 6 In 1 Cavitation 2.0 40K Machine  and buy one only, you can click the title below and buy it directly:

🧡2. If you want to learn more about the  Red Light Therapy Belt  and buy one only, you can click the title below and buy it directly: