Payment & Security
Your payment information is processed securely. We do not store credit card details nor have access to your credit card information.
Description
Model: 
HR-K808S
808NM Professional Diode Laser Freezing Painless Hair Removal Beauty SPA Machine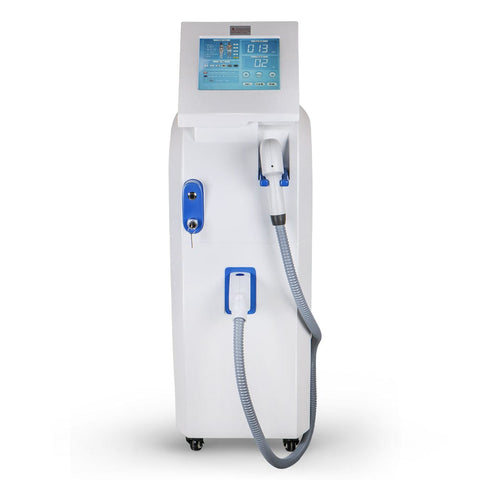 Principle 
Diode laser hair removal technology is based on the selective dynamics of light and heat. The laser goes through the skin surface to reach the root of hair follicles; light can be absorbed and converted into heat damaged hair follicle tissue, so that hair loss regeneration without injury surrounding tissue. Slight pain, easy operation, the most safe, technology for permanent hair removal now.

Diode laser equipment adopts 808 nm, particularly effective to hair follicle melanocytes without injury surrounding tissue. The laser light can be absorbed by hair shaft and hair follicles in the melanin, and converted into heat, thus increasing the hair follicle temperature. When the temperature raises high enough to irreversibly damage the hair follicle structure, which disappear after a period of natural physiological processes of hair follicles and thus achieve the purpose of permanent hair removal
Treatment principle 
Backed by long-term clinical data, the King Laser system has the ability to permanently reduce hair growth and treat the entire range of skin colors and hair types, satisfying hundreds of thousands of patients and their providers worldwide. The Chill Tip handpiece feedsthe ultimate in epidermal contact cooling and compression, increasing penetration of laser energy to the base of the follicle. The King Laser system's efficiency expanded applications, and excellent clinical results offer a new opportunity for practice growth.
Notice 
1. The temperature of the water tank does not exceed temperature 35℃.
2.Water source: pure water or distilled water.
3.Machine use of the environment: not exceed temperature 28℃, you can enter the background set themselves.
4. Machine use of the environment humidity less than 80%, this is very important.
Package including 
1.Main unit *1
2.Key*1
3.Funnel *1
4.Handle *1
5.Power wire*1