Payment & Security
Your payment information is processed securely. We do not store credit card details nor have access to your credit card information.
Description
Model: MS-54D1
$10 Off on Orders $100+ | Code:MY10
What's 5
 in 1 Cavitation RF Vacuum Slimming Machine?
5 in 1 cavitation RF vacuum slimming machine, also known as 5 in 1 cavitation machine, is a popular aesthetic machine that is integrated with 5 features, including 40K body ultrasonic cavitation, vacuum RF therapy, facial tripolar radio frequency, body quadrupole radio frequency, and body sextupole radio frequency.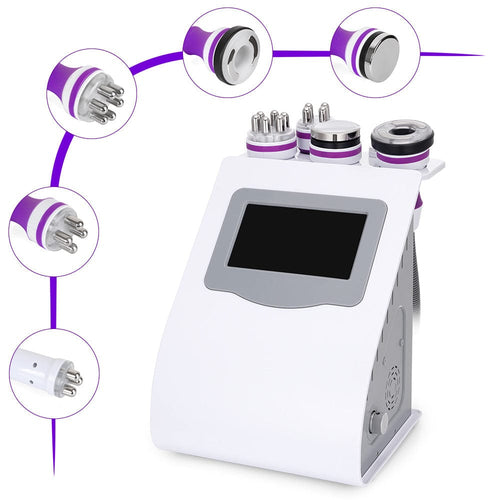 These 5 powerful operating handles meet the needs of different parts of the body and different therapy treatments including body ultrasonic cavitation treatment, vacuum therapy, radio frequency (RF) treatment, cellulite removal, etc. The machine allows users to achieve satisfied body sculpting and skin-tightening results.
Benefits of Cavitation RF Vacuum Machine:
Ultrasonic Cavitation Technology: Utilizing ultrasonic cavitation 2.0 technology, this device breaks down fat cells beneath the skin, reducing cellulite and localized fat without the need for surgery.
RF Radio Frequency: By delivering gentle heat energy to the deeper layers of your skin, RF technology stimulates collagen production, tightening and firming your skin, leaving you with a toned physique. The machine comes with 3 RF skin-tightening handles with different radio frequencies, allowing the users to use them on different areas of the body and face.
RF Vacuum Therapy: Integrated vacuum therapy offers powerful suction, stimulating blood circulation, and promoting lymphatic drainage. This helps reduce cellulite, tone the skin, and enhance the overall effectiveness of the treatment.
5 in 1 40K Ultrasonic Cavitation Machine Results
Our 5 in 1 40K cavitation RF vacuum slimming machine is easy to use, safe, and suitable for all skin types. With regular use, you can achieve visible results in the comfort.
Face: Lift facial contour, reduce wrinkles, and enhance skin elasticity.
Eyes: Eliminate eye bags, lift sagging skin, and reduce dark circles.
Neck: Smooth neck wrinkles, tighten, and contour for a youthful appearance.
Arms: Firm up arms, banish bat wings, and boost metabolism.
Waist: Burn belly fat and achieve a slimmer waistline effortlessly.
Buttocks: Lift and tone buttock contours for the perfect shape.
Thighs: Reduce thigh fat, improve skin tone, and achieve tighter thighs.
Why Choose 5 in 1 Cavitation RF Vacuum Slimming Machine?
Meet Users' Beauty Needs

Our cavitation RF vacuum slimming machine boasts five powerful operating handles designed to target various body parts and therapy treatments effectively.
Save Time and Money

With the all-in-one design, you can use the handles on different parts of the body and face. You don't need to switch between multiple devices when implementing different beauty treatments for users, which saves your time and money, as well as the space of your spas.
High Score at Trustpilot
With a stellar rating of 4.7 out of 5 on Trustpilot, our commitment to excellence shines through. This high rating reflects the quality, reliability, and outstanding service we consistently provide.
Specification
Main 5 in 1 Cavitation Vacuum RF Machine
Power supply Input:100V-240V
Dimensions (when installed): 13.6*10.2*15 inch
Net Weight: 5.2 kg
Gross Weight: 6 kg
Input Power: AC 110V/220V 50/60Hz
Display: Touch Screen
Uoisetion 40K Cavitation Handle
Frequency: 40KHz
Power: 30W
Sextupole 3D RF Handle for Body
Frequency: 1MHz
Power: 67W
Quadrupole 3D RF Handle for Face and Body
Frequency: 1MHz
Power: 57W
Tripolar 3D RF Handle for face
Frequency: 1MHz
Power: 35W
Vacuum Biploar 3D RF Handle
Frequency: 1MHz
Power: 75W
Vacuum: <-55 cmHg
Airflow: >10L/minute
Noise level: <60dB (30cm away)
Package Listing
1 x Main Machine
1 x 40KHz Unoisetion Cavitation Handle
1 x Vacuum Bipolar RF Handle
1 x Tripolar RF Handle for Face and Eyes' Around
1 x Quadrupole RF Handle for Face and Body
1 x Sextupole RF Handle for the Body
1 x Power cord Power Supply Cord (Both 110v and 220v voltage (frequency: 50/60Hz) versions are available. Also we stock the USA, UK, AU, and EU plug to suit the country all over the world.)
Frequently Asked Questions
How Does Cavitation RF Vacuum Slimming Machine Work?
Ultrasonic or ultrasound cavitation is the use of ultrasound technology to break down fat cells below the skin. It is a non-surgical method of reducing cellulite and localized fat. This procedure involves applying pressure on fat cells through ultrasonic vibration.
The cavitation rf vacuum slimming machine adopts the latest low-frequency wave of ultrasound cavitation 2.0 technology- unionization, to break down the fat cells into smashed particles and then metabolize them into a liquid focus on and destroy the fat cells in the target area.
The fluid is then easily removed from the body through the lymphatic and urinary systems. Meanwhile, high-frequency RF also helps improve the elasticity of the skin in order to help body sculpting/shaping.
How Long Is Each Cavitation RF Vacuum Treatment?
It will take 30 to 60 minutes for each part of the body treatment, But it is not the same treatment time, the treatment time depends on the treatment, the area to be covered, and the amount of work required for non-surgical inch loss and body contour treatment.
How Offen Cavitation Vacuum RF Treatment Is Recommended?
To ensure optimal results, we recommend at least 3-5 days must be allowed between treatments in the same area. Many people asked me if only one part of the body can be treated each day. No, not only one part of the body can be treated to get rid of fat, you can treat your belly, waist, arm, and thigh at the same time.
Remember to drink about 1 liter of water within 1 hour before RF Unoiestion Cavitation 2.0 treatment to help the liquid fat out of the body.
For further inquiries about our cavitation machine, please don't hesitate to get in touch. Our dedicated customer service team is here to provide you with all the information you need. Feel free to contact us at any time.
For more 5 in 1 cavitation vacuum RF machine instructions, please download the 5 in 1 cavitation machine manual.