Payment & Security
Your payment information is processed securely. We do not store credit card details nor have access to your credit card information.
Description
LED Laser 16 Pads Body Slimming Weight Loss Fat Dissolve Beauty Device
Model: WL-UU1601
Our lipo laser machine uses non-surgical, non-invasive laser lipolysis that emits low levels of laser energy to break down stored triglycerides into free fatty acids, glycerol, and water molecules. These free fatty acids are transported by the lymphatic system to supply energy to the body.
Exercise after treatment ensures complete metabolism of the fatty acids, resulting in the shrinking of fat cells and desired body shaping results.
This targeted fat reduction technology is non-destructive and can be used anywhere on the body, without destroying fat cells. It offers many advantages over other body-shaping technologies.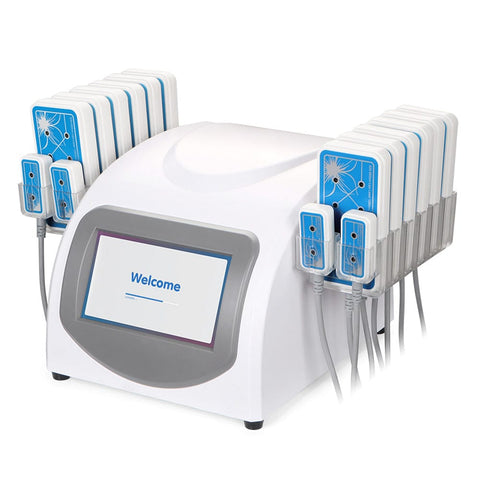 Why do you choose the lipo laser machine?
- Our procedure is not only safe but also non-invasive or has side effects. This treatment is safe, effective, and immediately demonstrable.
- It's easy to operate and requires only the proper positioning of treatment pads. It does not compromise office staff time or productivity.
- The machine is suitable for all skin types and can be used to treat all body parts, including the neck, breasts, back, knees, hips, thighs, bottom, and arms.
- Our treatment can accelerate tissue coagulation to avoid muscle slack after slimming.
Specification
Laser wavelength: 635nm ~650nm
Energy output :16640mw(104 x 160mw)
Mains power output: 100VA
Safety: Onboard diagnostics
Classification: Electrical Class 1, Type B applied part
Cooling requirements: Air cooled
Electrical requirements: 240V/5A/50Hz 110V/5A/60Hz
Mode of operation: Continuous
Dimensions:400*370*290mm
Net Weight: 6.00kg
Gross Weight:8.65kg
Input Power: AC110V/220V 50/60Hz
Display: Touch Screen
Package Including
1 x Powerline(We offer 100-240 V, AU/EU/UK/AU plug)
12 x Big paddle with 8 laser//Each (Total 96 laser)
4 x Small paddle with 2 lasers//each (Total 8 laser)
1 x Metal holder for paddles