Payment & Security
Your payment information is processed securely. We do not store credit card details nor have access to your credit card information.
Description
Model:WL-7008C
What's MYCHWAY Fat Freezing Machine?
Our fat-freezing machine offers a non-surgical and non-invasive alternative to liposuction. Adopting advanced cooling technology, the machine can freeze the fat cells at ultra-low temperatures and allow the body to expel them through natural metabolic processes for the purpose of fat reduction.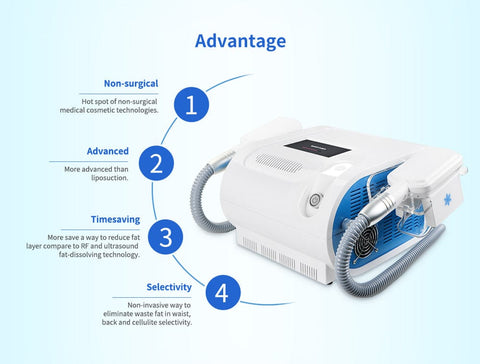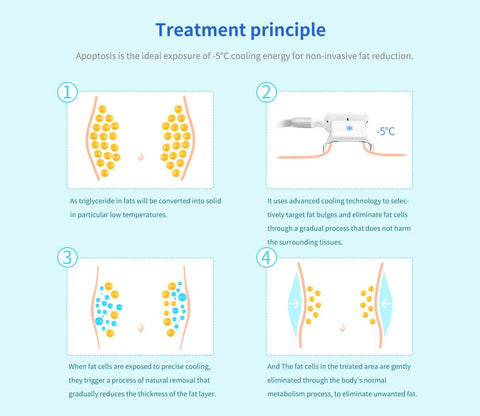 Why Choose Fat Freezing?
1. Remarkable results in removing stubborn fat
The fat-freezing machine can effectively and efficiently remove stubborn local fat from hard-to-exercise areas like the back, belly, and chin.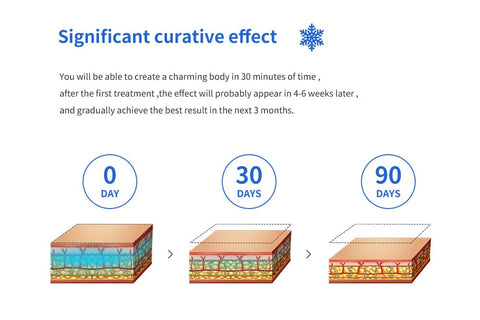 2. A safe and non-invasive alternative to fat reduction
The fat-freezing program is more advanced than liposuction and has no side effects. It will not influence normal working and living.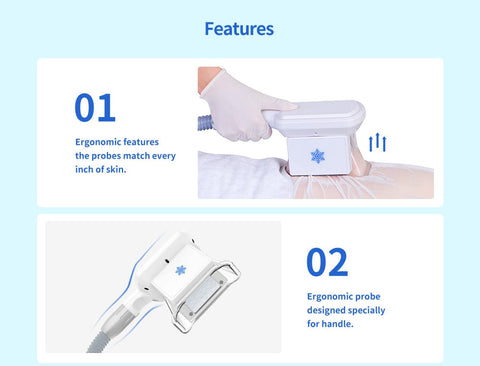 3. Advanced fat reduction technology
This revolutionary new fat loss method is approved as an important technological progress in fat reduction since its introduction. The operation process can reach -10°C and target these fat cells instantly to freezing.
4. Easy to operate and short learning term
Our system is updated control software with a user-friendly operation interface and easy operation to ensure learning and use.
5. Dual Handles for Simultaneous Fat Freezing
Using two handles allows you to work on two customers at once, reducing wait times and boosting sales during busy periods.
Technical parameter
Voltage AC110V/220V 50-60Hz
Vacuum 650mmHg
Pump flow rate 60L/min
Vacuum pressure 0-100Kpa
Freezing temperature: 0℃, -5℃,
Cooling device output: 0-5Kpa
Cooling liquid pure water
Default working time: 0-60min
Fuse size: F2AL250V
N.W: 8.5KG
Dimensions: 18"x14"x10"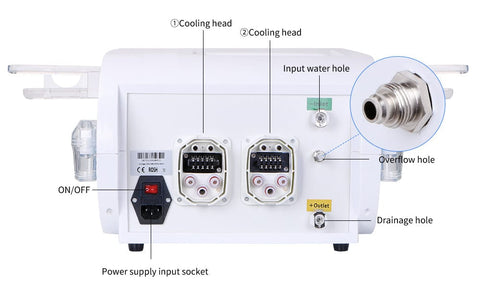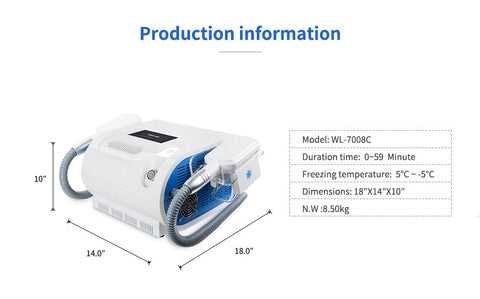 Accessories List
1xMain machine
2xBody Cooling handle
1xWater funnel
1xPower cord
2xfuse
2xfilter
Caution
1. The equipment must be operated by professionals
2. Do not use without antifreeze
3. Patients using the following medical electrical equipment can not use the equipment.
Implanted cardiac pacemakers or other implanted electronic devices
Life-sustaining artificial heart-lung machines and other equipment
Portable ECG measurement equipment
4. The following patients should be agreed upon by professional doctors before using the equipment.
Patients with acute
Malignancy
Patients with Infectious
Pregnant women;
Patients with heart
Patients with fever
Patients are receiving operations or those with abnormal body phenomena;
5. The following patients using this device should be taken care of
Infants and young children
Sensory or physically impaired persons