Payment & Security
Your payment information is processed securely. We do not store credit card details nor have access to your credit card information.
Description
Model:WL-LS1002
Microcurrent Body Slimming Weight Loss Laer Beauty Tool 10 Pads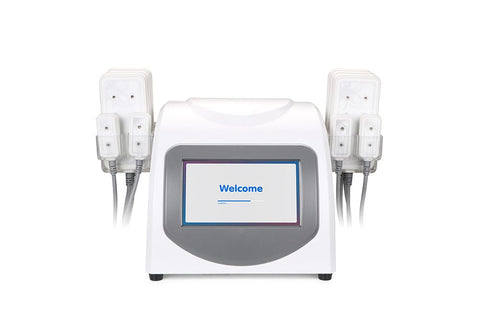 Principle
It adopts the latest innovation in non-surgical, non-invasive laser lipolysis. Lipo laser emits low levels of laser energy, which creates a chemical signal in the fat cells, breaking down the stored triglycerides into free fatty acids, glycerol and water molecules, the same natural response initiated by the body anytime it needs to use its stored energy reserves.
These free fatty acids are then transported throughout the body by the lymphatic system to supply the body with energy, again just as if the body would respond in times of caloric scarcity. A period of exercise post treatment ensures the complete metabolism of these freed fatty acids, shrinking the fat cells and delivering the body shaping results your patients are looking for. This is a non-destructive, targeted fat reduction technology, which means excess fat deposits can be treated anywhere on the body and the fat cells are not destroyed as a result of treatment. It targeted fat reduction and circumferential reduction has many advantages over other body shaping technologies.
Advantage
1.A safe, minimally invasive surgical procedure that USES low levels of a visible red laser to create a safe, painless stimulus that is the normal chemical pathway to release energy stored in fat. It is safe, effective and can be proven immediately.
2. It is easy to operate and the treatment is passive. Only the correct positioning of the treatment pad is needed
3. Treat all skin types and all body parts such as the neck, chest, back, knees, hips, thighs, hips, and arms
4.No bleeding, no pain, no side effects
5. Accelerate tissue coagulation to avoid muscle relaxation after weight loss
6. Save money and get a quick return on investment
Package Including
1 x Power line(We offer 100-240 V , AU/EU/UK/AU plug)
6 x Big paddle with 8 lipo laser//Each (Total 6 *8*5mw=240mw)
4 x Small paddle with 2 lipo laser //each (Total 4*2*5mw=40mw)
2 x ABS Holder for lipo pads