Payment & Security
Your payment information is processed securely. We do not store credit card details nor have access to your credit card information.
Description
Model: SD-23S6
CaVstorm Ultrasonic Vacuum RF Cavitation Microcurrent Slimming Beauty Machine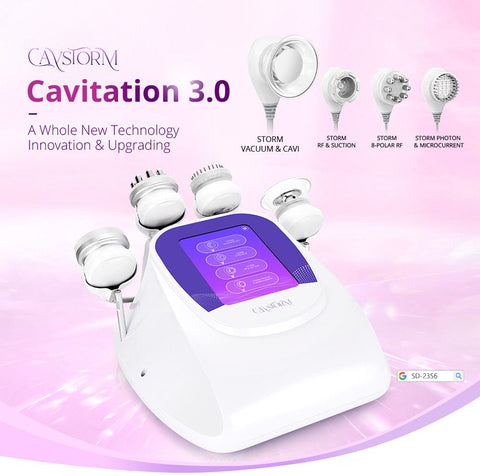 Functions
Storm Vacuum & Cavi Probe for Fat Concentrated Blasting
Storm RF & Suction Probe for Skin Tightenng, Body Detox
Storm RF Probe for Skin Firming and Skin Lifting, Repairing Skin Elasticity
Storm Photon & Microcurrent Solves All Kinds Of Skin Problem
Storm Photon & Microcurrent For Smooth, Calm Down Skin
Storm Photon & Microcurrent for Clear Meridian, Helping Fat Loss
Cavitation 3.0--A Whole New Technology Innovation & Upgrading
Storm Vacuum & Cavi
CaVstorm using the strong sound wave head that concentrates the strong sound waves, the sound waves with a frequency of 40,000HZ are emitted. After entering the human body, human cells produce an attack effect and movement between fat cells, which can effectively consume energy, consume cell water, and consume cell water Decrease fat cells, and at the same time, when the sound wave divides, CaVstorm causes strong division between cells, cell rupture, and fat cell reduction, so as to achieve the effect of inhibiting fat.
Storm 8-Polar RF
Storm 8-Polar RF is designed to transfer heat energy deep into the dermis and send electromagnetic waves. The heat generated reduces fat cells and helps the body lose weight. Using Radio Frequency handles, you can treat various parts of the body, such as: belly, arms, back, thigh. From the epidermis layer to the dermis layer, achieve the effect of removing dampness, detoxification, and reducing fat.
Storm Photon & Microcurrent
Storm Photon
Storm Photon & Microcurrent LED Lights are able to treat each different skin troubles, such as normal-skin, acne and even atopic dermatitis. Advantage of photon is that it has no side-effect and able to do painless treatment on wider area such as face, neck, and even scalp.
1. Red: Vitalize be suitable for any skin, promote blood circulation, and regenarate collagen protein in order to smooth skin and heal xerodermia, exuviation, degenerate losing hair and folliculosis.
2. Blue: Calm be suitable for sensitive, oil, and comedo skin-diminish and eliminate acne bacilus to remove acne, whelk, promote to compound protein with ossein, activate skin, tighten slack skin and gravidity winkle.
3. Green:Balance Normalize sebaceous glands ,Reduce black heads and sores, balance moisture.
4. Purple: Drain Renew skin, reduce wrinkles
5. Orange: Brighten whiten decompose pigment, and smooth scares
6. Turquoise: Defense strengthen the ability to protect skin, calm down, release stress,
7. White: Guide guide skin to absorb nutrients and anti-aging.
Storm Microcurrent
Skin tightening after cellulite and fat breaking down; Lifting up, for example, faces, breasts, hips and etc.
Storm RF & Suction
The powerful vacuum function increases the blood circulation by sucking the target areas and evens out the skin to optimize efficient RF energy delivery. The vacuum induces lymphatic drainage, smooths out the body and helps cellulite reduction. Then RF generated heat energy reduces fat cells and helps body slimming. With RF and Vacuum function, you can get much more result what you want.
Technical Specifications
Storm Vacuum & Cavi Probe
Ultrasound Cavitation 3.0
Frequency: 40KHz
Power:100W
Storm 8-Polar RF Probe
Frequency:5MHz
Power:100W
Storm RF & Suction Probe
RF
Frequency:5MHz
Power:100W
Suction
Vacuum: <-80kPa
Pressure: >250kPa
Air flow: >10L/minute
Noise level: <70dB (30cm away)
Power:20W
Storm Photon & Microcurrent Probe
7 colors photon : Red, Blue, Green, Purple, Orange, Turquoise, White
Microcurrent Frequency:1.5K