Payment & Security
Your payment information is processed securely. We do not store credit card details nor have access to your credit card information.
Description
Model: MS-JS2000B
Digital Frequency Conversion Muscle Stimulator Body Slim Body Relax Machine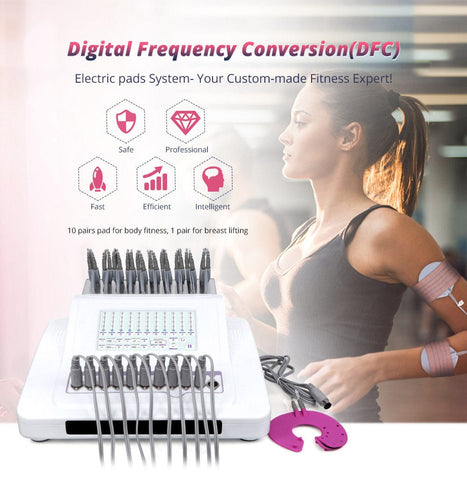 Functions
Promotes Blood Circulation
EMS Muscle Stimulator for Waist Thigh Slimming
Electronic Pads for Breast Massage
Relieves Various of Body Pain
Helps Losing Weight, Lifting and Firming Skin
Overview
DFC EMS Electric Muscle Stimulator System
After collecting the data of research and development from users all over the world for 3 years, we finally created the first digital frequency conversion (DFC) EMS Electric Muscle Stimulator System, which can separately set the energy output of each patch, the system will change the working frequency ( high frequency or low frequency) automatically according to the patient's body situation, age, body reacts of the electric current, this is can get the best frequency and get the best result.
What Can DFC EMS Electric Muscle Stimulator System Do?
The DFC EMS Electric Muscle Stimulator System comes with 11 output systems, 10 for the body, 1 pair is specialized in massaging the breast,
electric muscle stimulator therapy can promote blood circulation, preventing breast cancer and other breast diseases,
accelerate body metabolism, active cells, good for body slimming, body shaping, and relaxing.
Features of DFC EMS Electric Muscle Stimulator System
a. With a digital frequency conversion system, possible to set up the energy individual
b. Come with 10 pair body slimming pads and 1 pair breast pads, for both bodies slimming and breast massage, reduce the breast disease
c. Non-surgical, non-invasive, painless treatment for body and breast care, safe and effective to operate
d. Advanced controller with the micro-computer system and digital display, color touch screen, easy to set up the parameter.
Package List
1 x microcurrent main machine
1 pair breast massage pads
10 pairs of body slimming pads
1 set bandage
11 x wires for pads
1 x power cord
1 x holder