Payment & Security
Your payment information is processed securely. We do not store credit card details nor have access to your credit card information.
Description
Model: MS-7201F
Photon Vacuum Cellulite Removal Body Shaping Beauty Salon Machine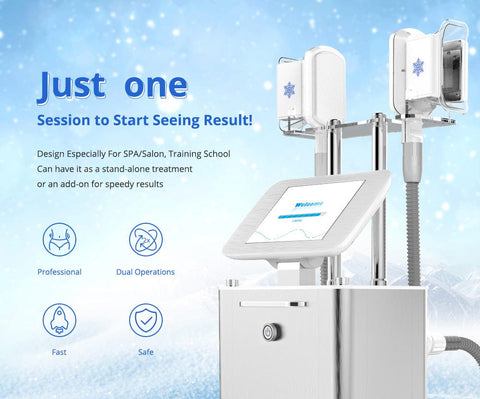 Technology Background
Too much fat can damage people's appearance and athletic ability. May also cause various Too much fatty tissue can be located in various parts of the body, including the thigh, buttocks, abdomen, knee, back, face, arms, and other areas. And an excess of adipose tissue may be cause ugly appearance formed by cellular. Excess body fat also related to significant health risk. So we need an effective method to control or eliminate excess body fat.
is a cosmetic surgery procedure that slims and reshapes specific areas of the body by removing extra fat deposits. Usually operated by the Plastic Surgery or dermatologist with a special surgical instrument for reduction, it is an invasive way to remove subcutaneous fat tissue.
There are also possible fatal complications and negative side effects associated with having a reduction. These temporary factors include swelling, painful bruising, pain, numbness, limited mobility, and allergic reaction. In addition, is of the high cost. There are other new emerging technologies to remove subcutaneous adipose tissue, including Mesotherapy led-assisted and high-intensity focused ultrasound...
Another non-invasive way to remove excessive fat including drugs, diet pills, regular exercise, diet control, or a combination of these methods. A disadvantage of this operation is likely invalid, and even in some cases impossible. For example, when a person physically injured or sick, you can not select the way of regular exercise. Similarly, when the diet pills or external use of drugs are allergic or cause adverse reactions, in addition, the use of physical or systemic approach to lose weight, you can not eliminate the body fat of a selected area.
The Cooling procedure is fundamentally different from other minimally invasive modalities, and it was approved as the most effective way to fat reduction.
This revolutionary new net loss method, which is approved as important technology progress in fat reduction since it is put into use. For those people who are on diet, do regular exercise but still remove local fat, Cool Freeze definitely a great gift. For fat intensive parts and fewer parts, such as love handles (flanks), and back fat. (loose fat above the hip on both sides of the waist), belly and back fat, the Cooling operation can produce stunning results.
Cool Technology
As triglyceride in fats will be converted into solid in particular low temperatures,It uses advanced cooling technology to selectively target fat bulges and eliminate fat cells through a gradual process that does not harm the surrounding tissues,reduce unwanted fat, When fat cells are exposed to precise cooling, they trigger a process of natural removal that gradually reduces the thickness of the fat layer. And The fat cells in the treated area are gently eliminated through the body's normal metabolism process, to eliminate unwanted fat.
Advantages
----Double handles work together or separately, self- protect program, stable temperature control
----Two Language for choose on display-Spanish&English
----Cooling operation beauty equipment, the temperature can reach to -10°C~5°C, up to 5Kpa, time to 60min
----More advanced than deduction, no side effects, good effects, no rebounding phenomenon, woundless, will not influence the normal working and living, comfortable, woundless during the operation no ruggedness.No bleeding and bruise, Non-anesthetic
----Fat freeze, more reliable-adopt the latest cooling technique in the world. Apply exactly to targeted tissue varying from area to area to achieve high operation efficiency, Low energy output to ensure a comfortable and painless operation course
---Better than RF and ultrasound, simple operation-Updated control software with user-friendly operation interface, Easy operation to ensure learn and use, Dispense with operation preparing period and no convalescence for its safety and wide application range
----Long effect: One-course operation will make you feel different, visible effect will be shown after a 1-2 course of operation, it is incredible and last for 3-5 years.
----Extensive operation: It could be applied to anyone's sagging skin and aging skin, Suitable for all kinds of skin.
----Short time: a Shorter period of operation and fewer operation steps
Parameters
1.Voltage 220V/50Hz for European Courntries,Australia,UK
110V/50Hz Voltage for USA,Canada,Japan etc.
2.Power consumption: 500W
3.Cooling device output temperature:5~ -10°C
4.Cooling device output :0-5Kpa
5.Cooling liquid: pure water
6.Default working time:0-60min
7.Fuse size:F2AL250V
Caution
1.The equipment must be operated by professionals
2.Do not use without antifreeze
1.The equipment must be used by professionals
2.Patients using the following medical electrical equipment can not use the equipment.
Implanted cardiac pacemakers or other implanted electronic devices;
Life-sustaining artificial heart-lung machines and other equipment;
Portable ECG measurement equipment;
3.The following patients should be agreed by the professional doctors before using the equipment.
Patients with acute
Malignancy
Patients with Infectious
Pregnant women;
Patients with heart
Patients with fever
Patients are receiving operation or those with abnormal body phenomenon;
4.The following patients using this device should be taken care of.
Infants and young children;
Sensory or physically impaired persons;
Attention
1)Working methord:
Two handle piece can working together in the same time.or just use one of them ,other one can be turned off.
2)After operation:
After operation
of the skin may appear slight injury, frostbite, pigment, careful nursing.
3)Contraindications:
Liver problems, Raynaud's, severe cold urticaria, cold globulin hematic , cold fiber hypoalbuminemia, severe burns, severe diabetes and older adults, children, frail and very resistant to freezing.